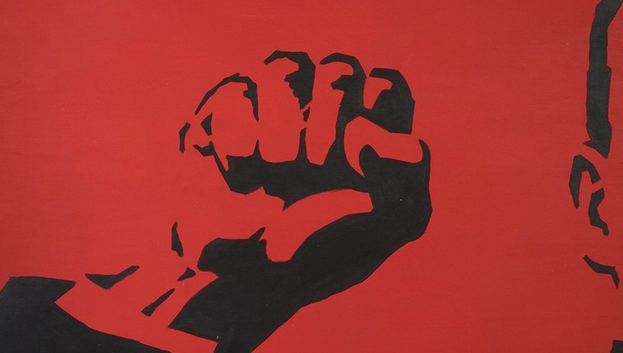 To coincide with our current exhibition Yalta 1945 and the centenary of the Russian Revolution, Ben Uri will be showing the documentary film 'Art in Revolution' 1972 by Lutz Becker followed by a panel discussion at JW3.
Art in Revolution gives a detailed account of the developments after the Russian Revolution and before the inauguration of Stalin's Five Year Plan. It surveys a wide range of experimental work by artists and designers produced during this period and indicates the extent to which their innovations have continued to exert influence over the course of 20th century art. It is one of many political and art documentaries by the distinguished director Lutz Becker. His other titles include Double Headed Eagle 1972, Lion of Judah 1981 and Vita Fururista 1987.
The invited panel will discuss the experimental works that emerged after the Russian Revolution and their significance to date.
The speakers include:
Lutz Becker the director of Art in Revolution. He studied at the Slade School of Fine Art, London, where he graduated under Thorold Dickinson and became a distinguished director of political and art documentaries. A practicing painter, he is also a curator of exhibitions. He collaborated with the Hayward Gallery on The Romantic Spirit in German Art 1994, Art and Power 1995 and Tate Modern on Century City 2001.
Dr Marie Collier a Sackler Research Forum Postdoctoral Fellow, from the Courtauld Institute and Soviet specialist who wrote her thesis on 'Visualising Socialist Construction: Architectural Photographs in Soviet mass printed media c. 1928-1937'.
Professor John Milner, a Courtauld Professor of 20th Century Russian Art and co-curator of the upcoming 'Revolution: Russian Art 1917-1932′ at the Royal Academy.
Professor Sarah Wilson from the Courtauld Institute, an art historian and curator whose interests extend from post-war and Cold War Europe and the USSR to contemporary global art.
The current exhibition at Ben Uri Yalta 1945 is now extended until March and shows the work of Vitaly Komar and Alexander Melamid, founders of the Russian Sots Arts movement in response to the Yalta Conference, where the fate of Europe was decided upon by The Big Three: Churchill, Roosevelt and Stalin.
FAQ's
Where is it?
341-351 Finchley Road, London NW3 6ET
Box Office: 020 7433 8988
How do I get there?
UNDERGROUND
Finchley Road (Metropolitan, Jubilee) and West Hampstead (Jubilee)
OVERGROUND
Finchley Road & Frognal
TRAINS
West Hampstead Thameslink
BUSES
13, 82, 113, 187 and 268
CYCLING
We have covered cycle racks for 50 bikes under our bridge. Please enter using the Lymington Road entrance. Helmets and equipment can be left in secure lockers on the First Floor – please ask at Box Office
PARKING
JW3 is well served by Overground, Underground and bus, and we recommend using public transport. If you are driving, please note that we are situated in a residential area, and we remind you to be considerate of our neighbours if parking locally. In particular, please park sensibly, do not park across our neighbours' driveways, and ensure you have left adequate space for emergency vehicles to pass. Thank you for your cooperation. Paid parking is available at the O2 Centre, 400m away. Free parking on Finchley Road and adjacent side roads after 7pm (6.30pm side roads) Mondays to Saturdays and all day Sunday.
ACCESS
JW3 is an accessible building for people with physical impairments. Wheelchair accessible.
Parking for disabled visitors is available, please call in advance to reserve a space.
We have 2 spaces for wheelchair users within the JW3 Cinema please ring in advance to let us know.
For your convenience, the JW3 Cinema and Howard Hall have an advanced technology hearing loop, just set your hearing aid to Channel T for the full benefits.