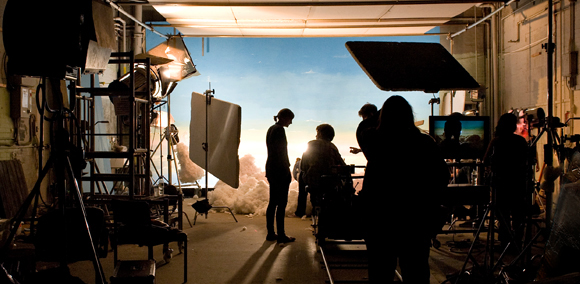 The NFTS is second to none. Producing a host of award winning students and graduates, and many of the UK's most noted contemporary auteurs as well as commercial filmmakers. It operates from its own historic studios running more specialist MA's than any other film school in the world. And you don't need a degree – you just need talent and a great portfolio!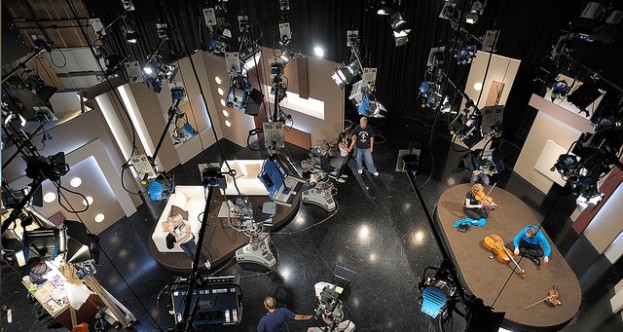 PRODUCTION FACILITIES
The NFTS is the only UK film school with its own film studios and its own television studio, both equipped to Industry standards, and with an annual production slate of around one hundred and fifty films our studios and production facilities are always busy.
To support all this activity, we have extensive facilities and equipment stores, and technical services staff, professional electricians and fulltime carpenters/set builders are on hand to support both learning and productions.
The NFTS has three large sound stages which are used for major productions. The television studio is fitted with a DMX lighting system, lightweight cameras with modern pedestals, galleries housing sound, vision and lighting equipment.
Post production facilities rival those of many professional post production houses. Editing students use Avid Media Composer and Adobe Premier (CS6). Digital post production has some of the most advanced digital post production systems, including Nucoda Film Master, AVID Symphony, Filmlight Baselight, Autodesk Flame and DaVinci Resolve. Facilities are continually updated to keep pace with innovations in technology.

OUR COURSES
The NFTS runs more behind the camera courses than any other film school in the world. For the past 40 years the School has run courses which produce graduates who have gone onto phenomenal success in the film, television and new media industries.
Our graduates enter the industry at a higher level than most of those taking a generalist filmmaking MA. Our two-year MA, validated by the Royal College of Art, equips our graduates with the high level specialist skills which will enable them to be successful in the creative industries.
The individual MA course specialisations are based on learning and applying the crafts and skills of the medium. Engagement with students on other NFTS courses is emphasised so that students develop a sound understanding of how their specialist role fits into the production process. Practical work is integrated with screenings and discussions that place learning in its craft and creative context. The Screen Arts programme – a systematic survey of screen history, culture and aesthetics delivered through seminars and screenings – is an integral part of the MA course. Students also undertake a dissertation or research project. While most students choose a topic related to their specialisation, subjects that attempt to draw connections with the filmmaking process as a whole are also encouraged.'
All NFTS Diploma courses follow a strongly practice orientated curriculum that combines professional, technical and theoretical study with production.
These courses are open to UK and EEA applicants only. Some of the diploma courses start in September and some in January. They vary in length from 12 to 18 months.
CERTIFICATE COURSES
Certificate courses typically last between 2 – 5 months and follow a strongly practice–oriented curriculum that combines technical and professional study with production.
All NFTS Certificate courses follow a strongly practice orientated curriculum that combines professional and technical study with production.
These courses are open to UK and EEA applicants only. Certificate courses start start at various points throughout the year. They vary in length from 2 to 5 months.
FEES AND FUNDING
If you are a British Citizen, you can afford it! The NFTS awards more scholarships and bursaries to British students than almost any other educational institution in the UK. If you genuinely cannot afford it and you are a British citizen or long term resident, then the NFTS will help you find a way to pay your fees. The NFTS also welcomes EU/EEA Students on the same rate as our UK  students.
Other donors include Warner Bros., Leverhulme Trust and the David Lean Foundation.
When you are offered a place on an MA course you will be invited to apply for these scholarships. We will also provide advice about other potential sources of funding.  Applications for NFTS funding are means tested. Awards to UK MA students for the academic year commencing January 2015 have ranged from £1,000 to £10,000, depending on demonstrated individual need.
Watch below to see how the Toledo Scholarship has helped British Black and Ethnic Minority students train at the NFTS.