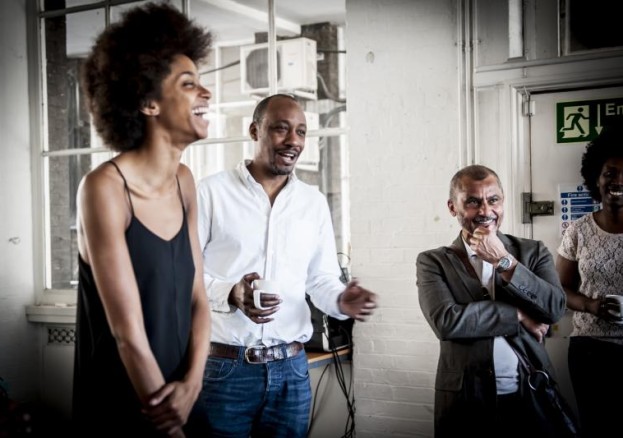 Talawa Theatre Company is led by Artistic Director, Michael Buffong. Over the years, as more Black work is produced by mainstream theatres and more Black practitioners make successful careers, Talawa has refined its vision and purpose. Talawa's mission statement:
Talawa is the UK's primary Black led touring theatre company. Our work is informed by the wealth and diversity of the Black British experience, and through that we create outstanding work by cultivating the best in emerging and established Black artists. We invest in talent, develop audiences and inspire dialogue with and within communities across the UK and internationally. By doing so we enrich the cultural life of all.
In addition to its productions the Company broadens the spectrum of work created by Black artists through commissioning new writing, and the development of ideas through seed commissions. The Company runs an annual season of playreadings, Talawa Firsts, which showcase strong plays and work by Black artists looking for full production. Talawa Firsts takes place at Talawa's Studio near Old Street.
The Company runs an extensive Participation and Education programme that includes TYPT, our annual summer school for new and emerging theatre makers, and a range of outreach activities that include bespoke workshops for all ages and abilities. These workshops are usually curriculum-based, artistic or related to participants' personal and social development.
Talawa also boosts the writing skills of emerging and established writers, strengthening and ensuring their career growth and position within the industry, through initiatives such as its Script Reading Service, Talawa Writers' Programme, script development and Talawa Firsts.
Talawa was created in 1986 in direct response to the lack of creative opportunities for actors from minority ethnic backgrounds and the marginalisation of Black peoples from cultural processes at the time of the Company's inception.
Since then, Talawa has grown to become one of the most successful Black theatre companies in the UK, mounting more than forty award-winning touring productions taking in everything from Shakespeare to African classics, Oscar Wilde to new Black British work and Nobel-prize winning playwrights to high-voltage musicals.
The Company has also performed the work of writers such as C.L.R. James, Derek Walcott, Michael Abbensetts, Wole Soyinka, Patricia Cumper, Mustapha Matura, Roy Williams, Derek Walcott, Jackie Kay, Kwami Kwei-Armah, Trish Cooke, Malorie Blackman and Michael Bhim.
A number of Britain's finest actors, many of whom have gone on to successful careers in film, radio, theatre and television, have worked with Talawa including Norman Beaton, Cathy Tyson, Don Warrington, Danny John-Jules, Kobna Holdbrook-Smith, Doña Croll and Mona Hammond.
Talawa writers, directors and personnel now work in all areas of British theatre. These achievements demonstrate the Company's continually growing status, influence and contribution to contemporary British theatre and the cultural life of the UK.