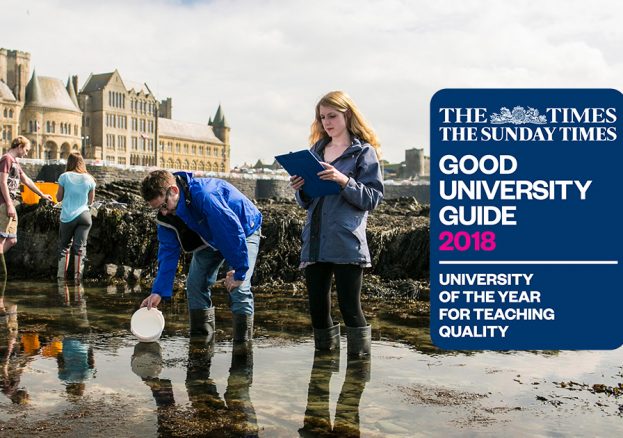 Aberystwyth University (Prifysgol Aberystwyth) is located on the beautiful west coast of Wales, surrounded by breathtaking scenery of rolling hills and sea. The University, part of the local town affectionately known as "Aber", forms a vibrant cosmopolitan cultural hub and is the safest place in Wales and amongst the safest in the UK to study (The Complete University Guide 2016).
Student experience is at the heart of everything we do at Aberystwyth University and our recent survey results speak for themselves: Top 5 University in UK and 1st in Wales for overall Student Satisfaction (National Student Survey 2017)*.
95% of research activity submitted by Aberystwyth University is of internationally recognized standard or higher (Research Excellence Framework 2014). Our continued research-led approach to teaching and investment in campus facilities and resources mean that the University continues to thrive academically: 1st in Wales and 10th in the UK for teaching excellence (The Times and The Sunday Times Good University Guide 2016).
Our package of Scholarships is one of the most generous in the UK, worth up to £15,000. We also guarantee you accommodation for your first year.
Our graduates are highly employable with 95% either in employment or further education within 6 months of graduating (Destinations of Leavers from Higher Education 2017). With excellent support services, Year in Industry degree options and AberForward Internships we are aiming for this growing trend to continue, helping our students gain "real-world" experience in preparation for their future careers.
Attracting and supporting the best students from diverse social and cultural backgrounds
Aberystwyth University is committed to developing and promoting equality and diversity in all our practices and activities. We aim to work, study and provide an inclusive culture, free from discrimination and upholding the values of respect, dignity, and courtesy. Every person has the right to be treated in accordance with these values.
We are committed to advancing equality on the grounds of age, disability, sex and sexual orientation, gender identity, race, religion and belief (including lack of belief), marriage and civil partnership, pregnancy, and maternity, and to embrace intersectionality and raise awareness between and across different groups.
*Aberystwyth University's rankings are compared against the HE institutions listed in The Times and Sunday Times Good University Guide.