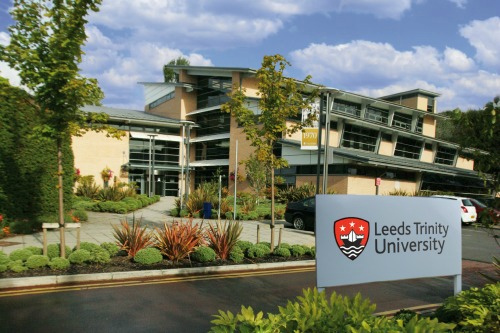 ​​​​​Leeds Trinity University has an established reputation, regionally and nationally, of being one of the UK's leading providers of teacher training courses. Our outstanding courses are taught by a highly experienced team that understands the learning needs of children, from the early years of 0–5 years, right through to primary education of 5–11 years.
​
Our close partnerships with over 600 primary education and secondary education schools will prepare you for a successful teaching career. You'll learn and apply practical teaching skills by engaging with school-based training, giving you a deep understanding of the Teachers' standards.
​
We recognise the diversity of settings where good teachers are needed, so we also give students the chance to complete professional work placements in alternative contexts such as museums, schools abroad and in special provision schools.
PGCE teacher training provision
Choose to study a PGCE training cou​​​rse the way that best suits you. We provide tried-and-trusted PGCE Provider-led and PGCE School Direct study routes to help you progress with career aspirations​.
Secondary Education
​​​​​​​​​​​​​​Leeds Trinity University is widely respected for teacher training amongst universities, schools, colleges and expert practitioners in education.
Our reputation for excellence has led to the establishment of over 600 relationships with school partners, who work with us to deliver PGCE courses in many different subject areas.
These partnerships ensure we give our students the knowledge and practical skills they need to prepare them for a successful teaching career. Year-on-year, our students are among the most employable Secondary Education graduates in the UK. Could you be one of them?
PGCE teacher training provision
Choose to study a PGCE training course the way that best suits you. We provide recommended PGCE Provider-led, PGCE School Direct and PGCE School Centred Initial Teacher Training (SCITT)​ study routes to help you progress in your chosen subject area and gain the practical skills to prepare you for a successful teaching career. ​
Reasons to choose us
​​​​​​​​​We know that choosing a university is a big decision, but we're confident that choosing Leeds Trinity University will be the best decision you'll ever make. Why's that, we hear you ask?
Highly employable graduates
Experience matters. Fact. That's why we pioneered the inclusion of professional work placements with every degree, giving our students a real head start when competing for their first graduate jobs.
It's not just placements, though. Employability skills are embedded into every degree and employers are involved in the creation of our degree courses, ensuring that students develop the skills relevant to current sector needs. If that's not all, our teaching staff have extensive professional experience in their fields and maintain excellent links with employers.
The results speak for themselves – 95​% of our students are employed o​r in further study six months after graduating. This places Leeds Trinity in the top 25% of all UK universities for employability, and first amongst all universities in Yorkshire and the Humber.​
Student satisfaction
We're proud to have satisfied students, with the most recent NSS results revealing 85% of our 2015 graduates were satisfied with their course. We're ranked 2nd in the UK for student satisfaction with feedback and assessment, according to the 2016 Guardian's University Guide 2015. WhatUni also ranked us 28th out of all 113 UK universities in 2015, thanks to glowing reviews from our very own students.
Research excellence
Many of our staff are active researchers, contributing to o​ur 4* world-le​ading rating for some of our research outputs in the Research Excellence Framework (REF) 2014. We're investing heavily in the development of the next generation of researchers, with a wide range of fully-funded PhD studentships on offer each year.​​
A modern campus with industry-leading facilities – all on one site
We can't help but brag – our campus is amazing. Located on a beautiful green site just six miles from Leeds city centre, our campus has everything you need for university life. Sleep through your alarm? You can wake up in one of our seven halls of residence, grab your breakfast and head to a lecture – all within 15 minutes.
In between lectures, you'll find the best facilities to support your studies. Our modern Library has a great range of study spaces, IT services and the Media Centre's wide range of industry-standard facilities makes our friends at the BBC and ITV jealous. Need a break? We've invested £2.2 million in our sports and fitness centre, which includes a gym that rivals the best in the city centre.
We're constantly investing in our campus and we're currently building a new hall of residence that will open in 2016. It will provide en-suite self-catered accommodation for 228 students, right in the heart of campus.
Located in Leeds – one of the UK's best student cities
Why study in Leeds? Well, why wouldn't you? Leeds Trinity University is located in Leeds, one of the UK's largest cities and one of the fastest-growing commercial and financial cities in Europe. Regularly voted as one of the UK's best student cities, Leeds is renowned for its amazing nightlife, culture and shopping, as well as its brilliant graduate job prospects.
You're a name, not a number
We're proud to offer a truly personalised university experience, giving every student the individual support they need to realise their potential. Our students, staff and alumni ​agree – you really are a name, not a number, at Leeds Trinity University.
About Leeds
​​​​You'll find Leeds Trinity University on a beautiful green campus in Leeds, one of the UK's largest cities. Home to over 100,000 students, Leeds is regularly voted the UK's best student city thanks to its amazing nightlife, culture and shopping. It's also an internationally recognised centre for learning and offers brilliant graduate​ job prospects.​
​
You'll be spoilt for choice when you arrive in Leeds, so we've put together a helpful guide to get you started. ​