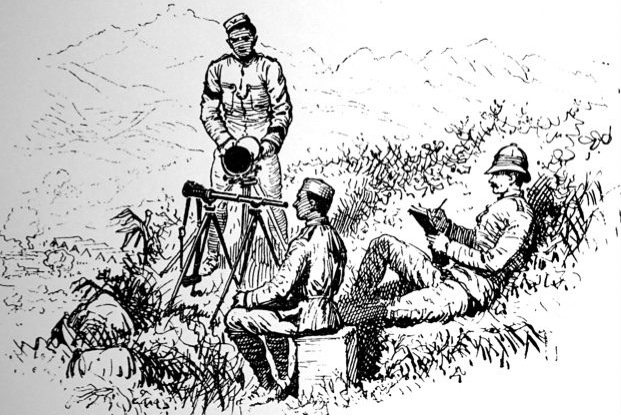 (Photo by: Universal History Archive/UIG via Getty Images)
*Sunday 28th January

14:00 – 17:00*
ABOUT THE FILM
Saragarhi: The True Story" narrates, for the first time on film, the fate of the 21 Sikh soldiers of the 36th Sikh Regiment of Bengal Infantry who on 12th September 1897 found themselves surrounded by 10,000 enemy tribesmen during an uprising on the North West Frontier between colonial India and Afghanistan.
The brave 21 fought to the last man despite the odds, in an engagement lasting nearly seven hours and with only limited ammunition. The battle is a significant one which was commemorated by the British with memorials in India, a battle honour for the 36th Sikh regiment that fought (now the 4th Sikh Regiment in the Indian Army) and the issue of the Indian Order of Merit class III, the highest award of gallantry at that time given to native Indians on par with the Victoria Cross, which was awarded posthumously to the 21 men.
The documentary, filmed in India, Pakistan and the UK, tells the story with unique access to private archives, never-before-seen images, stunning visual graphics, effects and re-enactment scenes.
The screening coincides with the 120th anniversary of the death of the commander of the regiment at Saragarhi, Lt Col John Haughton.
For more information on the battle please click here.
TICKETS
Tickets for this event are on a first come first served basis for both members and non members.
Hard copy tickets will not be issued, please bring your registration email with you.
This system will only accept one application per person, please make a separate booking for each guest.
PROGRAMME
The screening will take place in Woolwich Hall at The Royal Military Academy Sandhurst.
1400 Doors open
1430 Film starts
1530 Q&A
1600 Tea/coffee served in the Indian Army Memorial Room
DRESS
Dress for this event is jacket & tie.
TRAVEL
By Car:
Your designated parking area within the Academy will be indicated on your car pass. Please note that you may be required to walk some distance from the car park, disabled car passes can be requested as part of the booking process.
By Train:
If travelling by train, Camberley is the nearest station but not the most convenient for the majority of train journeys, Blackwater or Farnborough (Main) may provide better connections.
By Taxi: 
If you are travelling by taxi please use one of the taxi companies with security cleared drivers listed below. It is highly advisable to book in advance.
Forces Cabs 01276 22444
Everest Taxis 01276 510510
Five Sixes Taxis 01276 66666
Ambassador Cars 01276 28000
Academy Cars 01276 686667
PARKING
Parking for the event will be the Academy Guardroom.
SECURITY
A nominal roll of all registered guests will be given to the security gates who will check you in upon arrival.
All guests must bring some form of photographic ID, such as passport or driving license.
If you are interested in attending, please book tickets via: