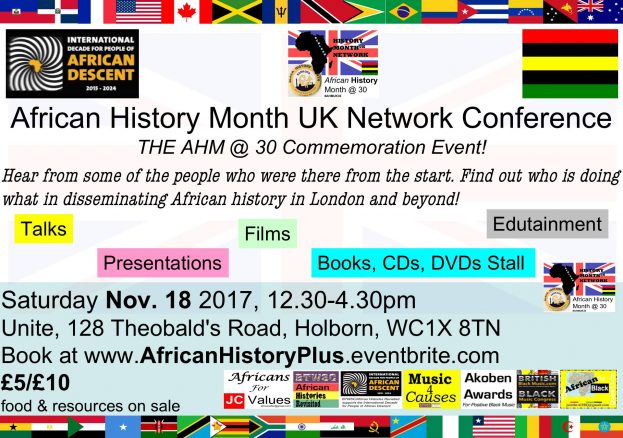 Interested in community African history programmes? Then you can't afford to miss this event, which we expect to be THE African History Month @ 30 event!
AHMUKNetwork ConferenceThe event is for anyone interested in African history, especially:
+ history presenters, programmers, organisers, researchers, tutors
+ parents
+ teachers
+ youth workers & mentors
FIND OUT HOW BLACK HISTORY MONTH WAS INTRODUCED IN THE UK IN 1987, HEAR FROM SOME OF THOSE WHO WERE THERE FROM THE START, WHAT COMMUNITY HISTORIANS & GROUPS ARE DOING REGARDING DELIVERY OF AFRICAN HISTORY IN & OUT OF AFRICAN HISTORY MONTH AND IN LONDON AND BEYOND, HEAR HISTORY-FACING, EDUTAINMENT, IF YOU ARE A COMMUNITY HISTORIAN OR GROUP, HAVE YOU BOOKED TO ATTEND, AND RAISE AWARENESS OF WHAT YOU DO OR PLAN DOING?
£5 early bird, £10 full price. Book at: www.AfricanHistoryPlus.eventbrite.com
Books, DVDs and food on sale