The report on human rights violations inside the United States released in March 2014 by the United Nations' Human Rights Committee listed "excessive use of force by law enforcement officials" as a grave problem across America. "The Committee is concerned about the still high number of fatal shootings by certain police forces…and reports of excessive use of force by certain law enforcement officers…"
"The Obama Justice Department had ignored repeated pleas and petitions to investigate Philadelphia Police Department fatal shootings and brutality."
Under a Black President we have seen multiple video examples of Black deaths in police custody and a legal system which offers no sanction. What is the history behind this situation and what can be done to challenge it ? Are there parallels in the UK and how is foreign policy afected ?
Professor Linn Washington will navigate us through this compelling story via the Move bombings and Mumia Abu Jamal to Laquaan Mcdonald and Mark Duggan
About the Speaker: Linn Washington, Jr is co-founder of the award-winning news website: www.ThisCan'tBeHappening.net   Washington is also Associate Professor of Journalism at Temple, where he co-directs the Multimedia Urban Reporting Lab that sends J-students into neighborhoods in search of stories the local establishment media ignore. In addition to his Temple degrees, Washington holds a law degree from the Yale University.
This event is Sponsored by the Race Matters @UCL and Owens Stevens Solicitors www.owensstevens.org.uk
Admission free if booked via eventbrite. Donations accepted on the day. This event will start at 6.30pm and latecomers may not get a seat.You can view our other lectures at www.youtube.com/blackhistorywalks
 A Black History Walks presentation www.blackhistorywalks.co.uk
More Westminister Listings MORE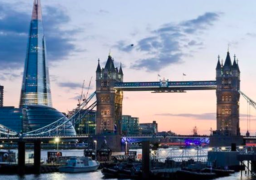 Westminister
Sat, 1 June, 14:00 – 17:00
A three-hour cruise along the Thames from Temple to Vauxhall to the Thames Barrier and back highlighting the…