Northumbria is one of the largest forces in the country and is recognised as one of the top performing in the UK.
We protect 1.5 million people across 2,000 square miles in Northumbria and there's a whole host of roles and specialisms involved in keeping them safe. We police an area that stretches from the Scottish border down to County Durham and from the Pennines across to the North East coast.
Under the leadership of our Chief Constable Winton Keenan, Northumbria Police is committed to reducing crime and disorder and building trust and confidence in its communities.
We believe that one of the best ways to connect with and serve our communities is to have an organisation where difference is welcomed and valued and we are particularly keen to attract those from under-represented groups, especially BME communities.
The greater the diversity of our officers, staff and volunteers – and the better they reflect our communities – the more intuitive our service to the public can be.
We are determined to remove the barriers that people from underrepresented groups, including those who identify as BME, LGBT disabled or female may face.
Our website is continually updated with recruitment opportunities:
Police Constable Adam Hussain is a Neighbourhood Beat Manager for Northumbria Police, he joined as an officer having worked for the force as a detention officer previously.
Adam said: "I am a mixed race White/Asian male of Pakistani and English decent".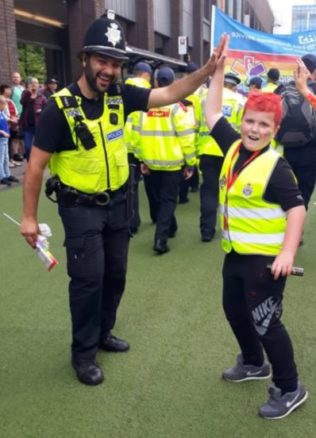 "I am proud to represent mixed race Asians from the wider community and I carry this with me every day as a Police officer".
"At the start of my Northumbria Police journey, I was not so confident in expressing this and at times I recall avoiding conversations when it came to my race/ethnicity. I recall wanting to be a Police officer, however I chose to join as a civilian member of staff for the simple reason that I did not feel confident joining as a Police officer, I also did not have the confidence in the Police to deal with any potential issues that may arise in relation to my ethnicity. This lack of confidence was fed by my upbringing and social rhetoric, by the media and by stories I had heard about the failings within the Police to deal with racism. Moreover I had a pre-conceived idea that the Police may not only be institutionally racist but individuals that make the force may in fact be racist. I surmised that by joining as a detention officer, I could get an inside look at these issues I had heard about and to test whether the reality met with my expectations".
"After serving as a Detention officer for 2 years, I was both shocked and relieved that my pre-conceived ideas about racism within the Police were not founded in my Force, at least from my perspective. Rather than segregation I felt inclusion, warmth and somewhat no different from those around me. This positive experience gave me the confidence to join as a Police officer".
"At the start of my Police service I did struggle to find common ground with those around me, I was not made to feel different, however I was different, I felt different, yet I was being processed like everybody else. The cynical pre-Police officer in me would have been happy to hear that I was being treated the same as my white counter parts; however I could not help but feel that the system and support provided should accommodate more for those that are different. This may sound contradictory having heard my concerns about institutional racism; however, treating people differently because of their race/ethnicity is very different to changing how you approach a person based on their unique and personal identity".