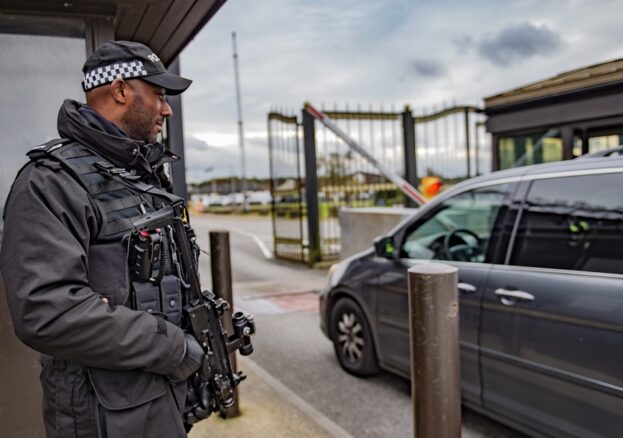 Delivering unique specialist policing for the past 50 years, to protect the nation's defences and national infrastructure, we are:
the Ministry of Defence Police, more commonly known as the MOD Police or the MDP
a national civilian police force, of around 2900 police officers and 260 civilian staff, serving the MOD, other UK Government departments and UK NATO partners based in the UK
a specialist police force – with most of our officers deployed as Firearms Officers, and significant numbers delivering marine policing and dog handling roles
We PROTECT and REASSURE to ACHIEVE our Defence purpose by:
using our policing skills to PROTECT people and assets crucial to Defence and national infrastructure
providing a highly visible and proactive policing presence to REASSURE our customers and local communities
deploying people and resources in an effective and efficient way, to ACHIEVE what we are required to deliver
Although our work is primarily focused on armed security and guarding of critical sites and assets, there is much more that we do. This includes a range of specialisms from dog handling to marine policing, from criminal investigation to public order, from Dynamic Entry to protestor removal.

By working with us you play an integral role in keeping the UK safe, and your work is of national importance.
Locations
From the Scottish Highlands to the South west coast, our officers and civilian staff are based at defence and national infrastructure sites of critical importance, across the UK. These include Faslane and Coulport on the Clyde, the Atomic Weapons Establishment sites at Aldermaston and Burghfield, Portsmouth and Devonport naval bases, Defence munition establishments and various other Defence sites, such as Defence HQ in Whitehall.
Our people are our future
You have a unique opportunity to specialise in armed policing from the beginning of your career with the MDP, and lots of opportunities to further develop in specialist roles. When you join us, you'll bring something unique to our police family too… you!
Our people are the very foundation of our organisation. Your individual background, skills and experiences are exactly what we're looking for, because we value difference in our force with a difference.
We know that creating a diverse workforce, representative of the communities that we serve, is essential to our future. People join us from all walks of life and backgrounds, and we are committed to creating an inclusive working environment where we support, recognise, and nurture the talents and skills of everyone in our organisation.
Staff networks play an important part in supporting an inclusive culture in the MDP. These include our Gender, REACH (Race, Ethnicity and Cultural Heritage), LGBT+ and Disability and Wellbeing networks, who work closely with our Diversity and Inclusion team to support staff and make sure that their voices are heard.
Benefits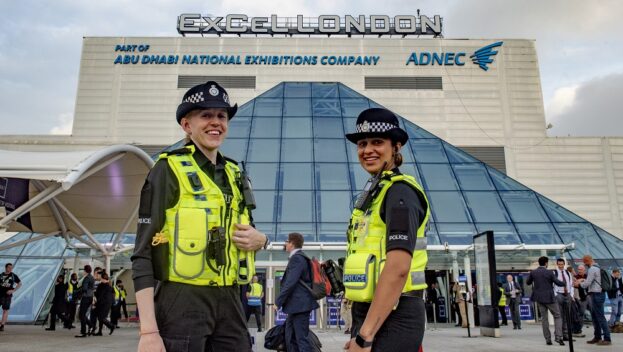 A competitive salary and Civil Service pension plan, with annual pay reviews. Location allowances are also paid for specific sites.
22 days annual leave, pro rata for part-time employees. There are options too for special leave, time off for public duties and career breaks.
All members of the MDP are entitled to discounts through the Defence Discount Service. Offers include cinema tickets, restaurants and even reduced prices on several car brands. Through payroll, you will be able to access our Cycle to Work and other salary sacrifice schemes.
Life in the MDP
Standard working hours are 40 per week, but shift patterns vary from station-to-station. As a guide, a typical shift pattern would consist of four 12-hour shifts, followed by four days off. To note: Shift patterns are currently subject to review.
We are developing a modern approach to our ways of working, providing greater choice when possible on where, when and how we work, dependent on what we're doing and the operational context. We have a culture that promotes healthy work-life balance and we use flexible working schemes, where duties and roles permit. This gives our people the flexibility to balance work around home life.
Career progression
We offer ongoing training and mentoring, to help with personal and professional development – including a bespoke MDP leadership package and access to a Leadership and Learning Hub. Whatever your career aspirations, we will provide support to help you progress and be the best that you can be.
Wellbeing
We're committed to supporting the wellbeing of our people, and we understand that people perform best when they feel comfortable and can be themselves. Support available includes:
trained Mental Health First Aiders throughout the Force, to listen and signpost suitable guidance
the Employee Assistance Programme: a 24-hour helpline, available every day of the year, providing emotional support, guidance and advice on a wide range of issues
Headfit: with online tools designed to help defence people stay mentally fit and on top of their game at work and at home
An Occupational Health Team, to provide guidance on the annual medical process and other health related issues for safety critical posts
Fitness provisions, including gyms, fitness instructors and a Force dietitian
Staff networks
Guidance and support to represent your needs from the Defence Police Federation and, for civilians, Trade Unions – membership is offered to all.
To find out more, visit www.mod.police.uk