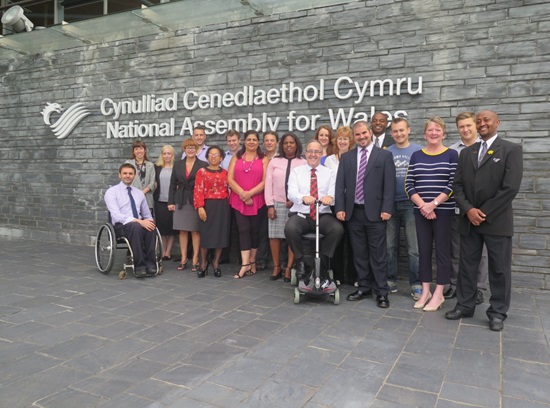 The National Assembly for Wales is the democratically elected body that represents the interests of Wales and its people, makes laws for Wales, agrees Welsh taxes and holds the Welsh Government to account.
We strive to be an accessible parliamentary body, which engages with and respects all of the people of Wales and beyond.
We are proud to represent all of the people of Wales and believe very strongly in the concepts of equality, diversity and inclusion. It is our belief that engaging with as diverse a range of groups as possible can only lead to a better democratic institution and legislature that delivers effectively for all the people of Wales.
We are pleased to announce that, as part of our commitment to raising awareness of our work and enhancing our engagement with Black and Minority Ethnic (BME) communities we, in conjunction with our Race, Ethnicity and Cultural Heritage workplace equality network, are participating in a range of activities that are happening throughout October to celebrate Black History Month. We will be at the:
BHM Wales Official Launch and Black History Wales Youth Awards 2017, on Friday 29 September at the Pierhead, Cardiff Bay 12:00 – 16:00

The Welsh Black, Asian, Minority Ethnic Public Sector Network 'Learning from the best' event, at Chapter, Cardiff , on Thursday 05 October 9:00 – 17:00

BHM Wales Grand Finale 2017 event, on Sunday 29 October, Wales Millennium Centre, Cardiff Bay 13:00 – 20:00
We will have stalls at the BHM Wales Official Launch and Grand Finale events so, if you are able, come along and say hello and find out more about the Assembly and the work we do.
Our REACH network will also be hosting, on the 09 October 2017 a 'Black History Month in Britain and the black mental health experience' event, with guest speakers Patrick Vernon OBE and Diverse Cymru. You're welcome to attend this free public event but places are limited, so please secure your place as soon as possible, by contacting the Diversity team.
A range of blog articles will also be posted throughout October so keep an eye on our blog pages and Twitter account @AssemblyWales throughout October for more information.