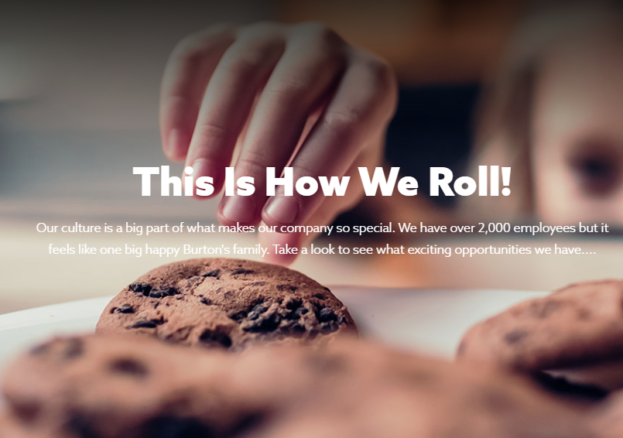 We are incredibly lucky to work in the world of making delicious biscuits! Our Vision is to have a shared Pride and Passion for baking sensational biscuits & snacks that delight our consumers, shoppers and our customers. We're the only major biscuit manufacturer in the UK to focus solely on biscuits making us one of the key players in the market.
We employ over 2,000 people around the UK, in our three main manufacturing facilities in Llantarnam, Edinburgh and Blackpool. Our head office is based in St. Albans and a subsidiary office is located in Blackpool.
What are we all about?
Here at Burton's Biscuit Company we pride ourselves on being an employer of choice. Our goal is to support our team in achieving their career goals. We do this by providing a working environment that offers opportunity, support, scope and pace of change. Our culture is the foundation of our business. We are fast paced, agile and fun.
Culture and Values
Our culture and the way we treat each other is really important to us. That's why we have developed 4 four cultural values that guide us in the way we interact with each other and our customers. They help us to focus on developing an amazing place to work for all of our colleagues. Our cultural values also describe our behavioural expectations so everyone is clear on what they need to do to realise a rewarding career at Burton's Biscuits.  We are very focused on making sure everyone understand the part they play in our success and knows how to support others so we can all win together.
We love to have fun here at Burton's which is why each site has their own personalised calendar of events focusing on health & wellbeing, raising awareness, charity events and it always includes lots of fun! There is something for everyone to get involved in, see what we have been getting up to recently below!
Why Burton's Biscuits?
Are you looking to try something new or take on a new challenge? Or maybe you're one Smart Cookie who's just graduated or finished school? Either way, if you're passionate about baking sensational biscuits and love our amazing brands, then we would love to hear from you.
We believe the recipe for a great working environment starts with people who are happy in their work and have opportunities to learn and grow. That's why when you join our family, you'll work alongside like-minded people who support and encourage each other's development, so everyone can reach their potential and be their Burton's best.
Inclusion & Diversity Statement – Being Yourself at Burton's
At Burton's we believe in the power of being authentic and being able to 'Be Yourself'.
Understanding our customers is crucial to our success, so having a workforce that reflects the diversity of our customers is vital.
As a business we are committed to the continuous improvement of diversity and equality in the workplace and we welcome talented individuals from all backgrounds who share our Pride and Passion for Baking Great Biscuits and snacks.