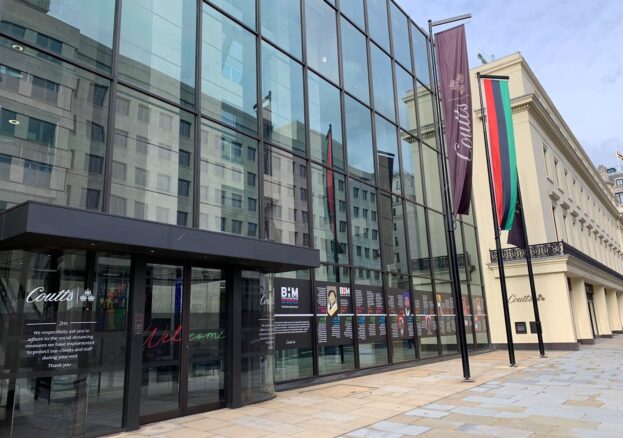 Over 300 years we've cultivated a reputation that inspires respect and built a business on expert insight and professionalism.
Everything we do is characterised by extraordinary quality – the thoughtfulness, care, and attentiveness that is quintessentially Coutts.
It's our exceptional people who bring the client experience to life, and we recognise their skill, attention and discretion. They set our impeccable standard.
A FORWARD THINKING PERSPECTIVE
Our clients are remarkable people. This means we look for people who put as much effort into large projects or events, as they do the finer details. Demonstrate your talent, skill and dedication to our clients, and we'll give you every opportunity to accomplish your aspirations.
You will benefit from an environment that is both challenging and collaborative. We take the initiative, and ask ourselves how we can do things better, every day. We draw on our networks and mentors to consistently learn and develop. When you join us you will work with great people, learn from them and share what you know.
We practice excellence in everything we do. We expect the best from ourselves and each other every day.
INCLUSION
We value the diversity of our employees and are committed to creating an inclusive culture. We prize fairness, want to attract and retain talent and enable employees to reach their full potential. We encourage employees to bring the best of themselves to work, to recognise and celebrate differences and to be respectful and curious about diversity.
Our employee led networks are important partners in helping us create an inclusive culture. These networks inspire our employees to develop and enhance their skills and build successful careers. Most importantly they are open to everyone.
Our efforts have been recognised. We are well represented across the major UK industry diversity & inclusion benchmarks. We have two of the industry's largest internal networks:
OUR INTERNAL NETWORKS
GROUP GENDER NETWORK
The Group Gender Network represents over 500 members across the Coutts and Adam & Company businesses. As part of the Group Gender Network our goal is to attract, develop and promote female talent within the business.
We support women in private banking by:
Recognising female colleagues and highlighting case-studies which show colleagues what they can achieve
Strengthening the pipeline of female talent by supporting greater diversity in recruitment and promotions
Providing relevant, high-quality professional development opportunities, tailored to different career levels
Expand our networks to create opportunities for learning and collaboration
---
THE RAINBOW NETWORK
The Rainbow Network has been providing insight, education and support to help members of the Lesbian, Gay, Bisexual and Transgender (LGBT) community since it was founded in 2005. We're run by volunteers, and use our influence to make sure NatWest Group provides the right services to customers, colleagues and communities, while seeking to improve NatWest Group as an employer of choice for LGBT staff and allies.
---
ENABLE
We believe that, by promoting awareness of disability and its impact, we can create a better bank for colleagues, customers and the communities we serve. We're working together to help develop a truly inclusive culture within NatWest Group, one that enables people with all abilities, and those who care for others, to be recognised and valued for their talents.
---
FAMILIES AND CARERS
The Families and Carers Network promotes a supportive work environment to enable parents and carers to achieve a great work-life balance. We arrange regular seminars and webinars covering matters relating to both parenting and caring responsibilities. We also hold monthly coffee meets where our members can network with people in similar situations to share and learn from their experiences.
---
MULTICULTURAL NETWORK
Our mission is to raise awareness of cultural differences, enhancing NatWest Group's offering to our diverse population of employees, customers and the communities we serve. We are open to all colleagues, and proactively support in recruiting, developing and retaining talented people from all backgrounds. We also represent all cultures through celebrations, and raise awareness to help combat any potential barriers.