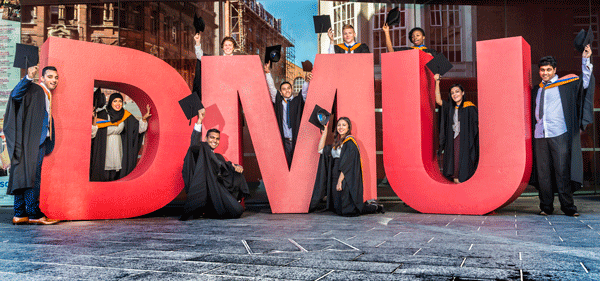 At DMU, we pride ourselves on being an innovative, exciting and dynamic institution, one that attracts staff and students from many backgrounds, reflecting the diverse population of the surrounding area. We celebrate the rich cultural diversity of our staff and students and we take great steps to ensure that everyone at DMU is given the means to reach their full potential.
Our continued commitment to race equality has been recognised with a prestigious Race Equality Charter Mark award, held by only ten universities in the UK, and earlier this year, we were the first university to have the award renewed. It doesn't stop there – DMU has also just been named University of the Year for Social Inclusion by The Sunday Times Good University Guide.
DMU is committed to the public good and transforms lives by providing inspiring environments for students and staff to live and work in, and by sharing discoveries for the wider benefit of society. An example of this is the launch of the Stephen Lawrence Research Centre which will drive work to help combat racism and make meaningful changes to attitudes around race in our society.
Our Freedom to Achieve programme is our commitment to eliminate the attainment gap between Black, Asian and Minority Ethnic (BAME) and white students and to ensure that there is an equal playing field between all students regardless of their ethnicity.
This is a dynamic place to live, work and study, in a vibrant city, in a wonderful region. We are particularly proud of our community work, and in the ethos of public service which we foster in our students and staff. Our pioneering Square Mile initiative, for example, offers unparalleled opportunities for the wider community to draw upon the skills, ideas and commitment of our students as well as the expertise of our staff to improve health, education and job prospects.
DMU has been ranked Gold under the Teaching Excellence Framework (TEF), recognising our commitment to excellence, the consistently outstanding teaching and learning on offer at DMU and the extraordinary impact it has on our students. Achievements like this reflect the calibre of staff the university attracts across all areas of our work.
From lecturers and researchers to administration, security, grounds staff and professional posts, we are looking for highly talented people to join De Montfort University.
We have a large and vibrant academic and professional services community with a distinctive identity, a clear direction and a passion to deliver the best possible student experience.
A career at DMU will give you the opportunity to impact on future generations, share in the passion of education and above all, make a real difference.
Are you the sort of person that can make a unique contribution to thousands of lives each year? If so we'd love to hear from you.
dmu.ac.uk/jobs