Today, Newcastle has a broad research base in the fields of medicine, science and engineering, social sciences and the humanities. English, Geography, Architecture and Planning, Cultural and Media Studies, Civil Engineering, Mathematical Sciences, Clinical Medicine, Biological Sciences, Psychology, Psychiatry and Neuroscience and Hepatology are among our strongest disciplines.
We aim to be a globally significant research university that performs high quality research across a wide range of disciplines and locations. We conduct our research activities with a commitment to excellence and a concern for the needs of both local society and global issues. The combination of being globally ambitious and regionally rooted underpins our vision of Newcastle as a world-class civic university.
We strive for world-class academic excellence – but excellence with a purpose – so that our high-quality academic work is responsive to large-scale societal needs and demands. Through three established Societal Challenge Themes of ageing, social renewal and sustainability, we focus a significant part of our research effort towards this aim.
Vision and Values
Our vision is of Newcastle as a civic university with a global reputation for academic excellence. Our principles and values recognise and build upon a foundation that is shared across the higher education sector.
We are committed to certain fundamental values, shared throughout the higher education sector, including:
academic freedom
the pursuit of knowledge and understanding
a sound academic disciplinary base
a methodology based on reason and evidence
social responsibility
transparency
In addition, at Newcastle we:
are committed to excellence
value diversity
respond to societal challenges
place equal importance on research and teaching
educate for life
are globally ambitious and regionally rooted
invest in excellent staff
The Student Experience
Our commitment to teaching quality and improving the student experience is reflected through our results in national and international student satisfaction surveys. In the National Student Survey 2016, 90% of Newcastle University students are satisfied with their overall experience. The results place us joint 12th in the UK for student satisfaction among comparator universities.
We are also in the top 10 in the UK for student experience for the second year in a row in the Times Higher Education Student Experience Survey 2016.
The International Student Barometer Survey 2015 gave us an overall satisfaction rating of 93% among our international students. We received strong scores for teaching, student support, living experience and campus facilities. The results place us 12th in the world and 8th in the UK (among participating institutions).
We have a well-deserved reputation for sporting excellence with consistently high finishes in the British Universities and Colleges Sports League. We finished 9th overall in the 2015/16 rankings (out of more than 160 participating institutions).
Newcastle's social life is top-rated by students – joint 1st in the 2016 and 2015 Times Higher Education Student Experience Survey.
Newcastle University – A Global Institution
Today's University is a thriving international community of some 24,700 student drawn from 120 countries worldwide. The majority of our teaching and research takes place on our city centre campus in Newcastle upon Tyne, in the north east of England, while our international branch campuses, Newcastle University Medicine (NUMed) Malaysia and Newcastle University Singapore extend our global footprint. Malaysia and Singapore provide programmes of study that are identical to Newcastle's UK-based provision and lead to the award of the same degrees, conferred by Newcastle University. Our newest branch campus, Newcastle University London, opened in September 2015, is providing full- and part-time undergraduate and postgraduate study with an initial focus on business and finance, for students from all over the world.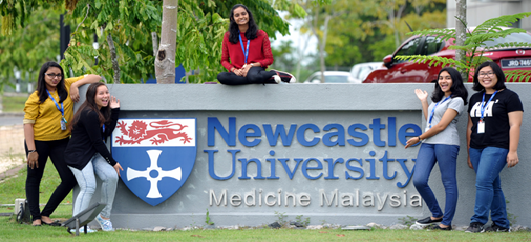 We have also formed key international partnerships and collaborations aimed at matching the scope and ambition of our internationalisation activities. Partnerships are developed not only where we share a mission, values, goals and ambition, but also as a way to collaborate on teaching and research projects that address the needs and challenges of a global society. These partnerships extend to a range of higher education and institutions in Europe, North and South America, Asia and Australia.
Working for Newcastle University
We are a civic University with an international reputation for academic excellence. We are also a world-class research-intensive University, which delivers teaching and facilitates learning of the highest quality and plays a leading role in the economic, social and cultural development of the North East of England.
Attracting and retaining high calibre people is fundamental to the continued success of the University and we warmly welcome staff from all backgrounds and from across the globe.
As well as being part of a university which is internationally recognised for its research and teaching, employees of Newcastle University benefit from a range of Career Progression and Development Opportunities, and pay and benefits. As a member of our staff, in whatever capacity, you will be contributing to the creation and dissemination of knowledge, and increasingly to the application of that knowledge to achieve real benefits for people here in the region and worldwide.
You will be able to take real pride in your employer – 92% of our employees said they feel proud to work for this University.
Equality and Diversity

Equality and diversity at Newcastle is led by our Dean of Diversity. She is supported by Directors of Diversity, support officers in each Faculty and a centrally based HR equality and diversity specialist. Strategic level discussions are carried forward by our Diversity Committee and supported by the Diversity Consultative Group, where representatives from a range of staff networks, the students union, trade unions, university services and other groups can contribute to equality and diversity policy and practices.
Newcastle University holds the Athena SWAN Institution Silver Award, one of only nine institutions in the UK to do so. We are currently looking at the suitability of the ECU Race Equality Charter as a way to measure our progress on BME employee inclusion and this will inspire a range of actions in the coming years. We are also a Stonewall Global Diversity Champion.
Freedom City 2017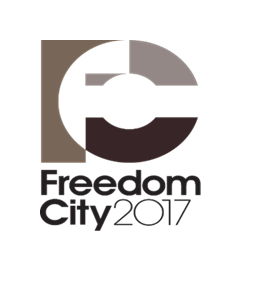 On 13 November 1967, Newcastle University gave Dr Martin Luther King an honorary degree, the only UK University to do so in his lifetime.
On accepting his degree he made what was to be his final public speech outside of the US. In a moving address he captivated the audience, speaking out against inequality, racial injustice, poverty and the war in Vietnam. The problems of poverty, racism and war, outlined in Dr King's speech, are as relevant today as they were 50 years ago.
Because of this, the aims of the celebrations are to bring Dr King's legacy to life for a whole new generation. To equip them with knowledge and skills and empower them to contribute towards tackling the great problems of war, poverty and racism.
To commemorate and celebrate this historic moment, Northern Roots, appointed by Newcastle University, is producing Freedom City a city-wide programme which will culminate in a series of large-scale celebration events in November 2017.
There will be multiple strands to the festival, the centrepiece events taking place on the weekend of 12 and 13 November 2017. We hope to enable artists to create internationally significant work that is inspired by the themes of Dr King's acceptance speech. And by doing so, galvanising the North East region's cultural venues and landmark sites as hosts to a global audience.