Our in-depth expertise includes trauma, personality disorder, psychosis, autism, learning disability, brain injury and progressive neurological conditions such as Huntington's disease and dementia.
Our care plans are tailored to each patient, and we work with them to find therapies and treatments that suit their needs and preferences.
We want to provide the best possible care and to achieve this we need the best people in all our roles across the Charity.
We are committed to Inclusive Healthcare. This means creating patient outcomes and employment opportunities that embrace diversity and promote equality of opportunity, and not tolerating discrimination for any reason.
Our goal is to ensure that Inclusive Healthcare is reinforced by our values, and embedded in our day-to-day working practices, and ensure:
We value the diversity of our patients and the people who care for them;
We can provide better care when people feel they can truly be themselves and openly share viewpoints, ideas and energy;
We give all our patients, staff and carers the chance to get involved and promote inclusion;
We encourage patients, staff and carers to develop their awareness of diversity and promote learning in this area so no-one feels excluded at St Andrew's;
We support both patient and employee network groups, promote events, and create an opportunity to get to know each other, and exchange ideas on diversity;
Our staff are our greatest asset, so St Andrew's wants to attract the best people to come and work with us, and be part of an environment where individuals can flourish and learn.
At St Andrew's careers feel different. There is a strong sense of belonging and teamwork and a huge sense of collective pride across the Charity.
You'll know our people by their healthcare knowledge, advanced skills and their dedication and professionalism. We live and breathe our values: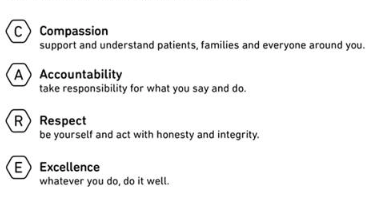 If you hold these values, you should come and join our team. We have a range of jobs that will give you the opportunity to transform lives, including clinical careers such as psychiatry and nursing; all types of head office functions such as communications, estates and facilities, finance, HR, IT, marketing, research and much more.
We welcome all applicants and actively encourage applicants from the LGBTQ+ and BAME community.
If you'd like to find out more about working at St Andrews please visit: www.stah.org/careers/.