Walgreens Boots Alliance (Nasdaq: WBA) is a global leader in retail and wholesale pharmacy, touching millions of lives every day through dispensing and distributing medicines, its convenient retail locations, digital platforms and health and beauty products. The company has more than 100 years of trusted healthcare heritage and innovation in community pharmacy and pharmaceutical wholesaling.
The company's portfolio of retail and business brands includes Walgreens, Duane Reade, Boots and Alliance Healthcare, as well as increasingly global health and beauty product brands, such as No7, Soap & Glory, Liz Earle, Botanics, Sleek MakeUP and YourGoodSkin.
"A diverse and inclusive organization is a top priority for our business, and we are proud to embrace and support the many cultures, backgrounds and experiences of our customers, patients and employees across the globe," said Stefano Pessina, executive vice chairman and chief executive officer, WBA.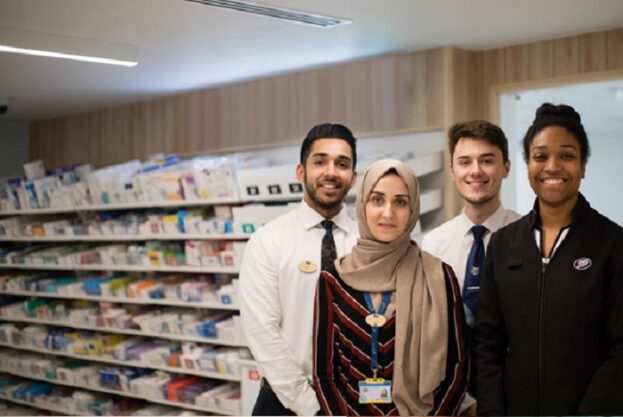 In July, WBA was recognized for a fourth consecutive year with a top-score of 100 percent on the 2020 Disability Equality Index® (DEI), a joint initiative by Disability:IN and the American Association of People with Disabilities (AAPD).
WBA has implemented a leadership accountability program, which holds leaders responsible for undertaking diversity and inclusion efforts focused on increasing representation of People of Color and women within leadership levels. The program includes presenting diverse interview slates for open leadership positions.
"WBA is committed to diversity and inclusion and has demonstrated a thoughtful and strategic approach to truly ensure that these values are at the center of everything we do," said Carlos Cubia, WBA vice president and global chief diversity officer. "This commitment comes from the highest levels of our organization."
To find out more about our Diversity, Equity, and Inclusion Strategy, read our report and see some highlights below.
WBA Diversity, Equity, and Inclusion Goals and Facts
We aim to increase women in leadership positions globally by 3 percent in fiscal 2021 over the prior year and increase People of Colour in leadership positions in the U.S. by 2 percent in the same time period.
More than 3,000 WBA employees are active in 15 Business Resource Groups (BRGs) across the U.S., Europe and Asia. These grassroots networks commit to making us even more diverse and inclusive.
Boots UK and Alliance Healthcare UK report gender pay gap information showing a gender pay gap lower than the UK national median
To find out more about our Diversity, Equity, and Inclusion Strategy, read our report