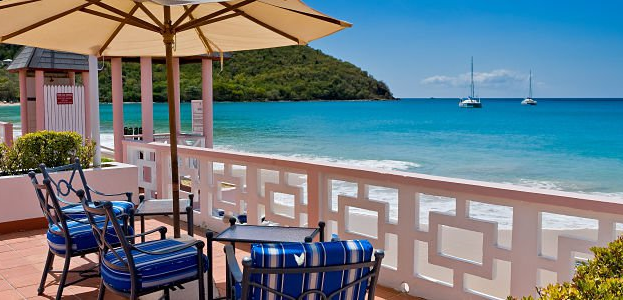 Situated on the shores of five beautiful Caribbean islands, the seven rex resorts beach hotels offer a real estate of paradise. There's a Caribbean island to suit everyone from Antigua, renowned for its idyllic beaches and crystal clear waters, St Lucia with it's lush rainforest and lively culture. Grenada, famous for its spices, exotic flowers and world class diving, Tobago where relaxation is a must and the island bursts with wildlife, to Barbados with its colonial style, dramatic scenery and cosmopolitan feel.
Our Resorts and Hotels
Barbados

All Inclusive on beautiful West Coast, St James. A favourite for couples, families, single travellers and those looking for relaxed resort popular with British and European visitors.
Discovery Bay is a unique Barbados beach hotel providing the perfect location for a Barbados vacation. Situated on St James Beach, the All-Inclusive Discovery Bay consists of charming plantation-style houses set in beautiful landscaped gardens. Located on the fashionable West coast, days at this resort are centred around the beach, the pool and the Sugarbird Bar and Grill.
Discovery Bay is just as exciting a place to stay once the sun goes down, offering the opportunity to try authentic Bajan cuisine and international dishes at the informal Garden restaurant or themed nights by the pool and beachfront. The restaurant serves tempting buffet-style and occasional table d'hote menus.
After dinner this stylish resort comes alive, with the Lobby Bar playing host to a varied selection of entertainment including steel pan and local bands.
Antigua
Every rex resort is located directly on a fabulous beach, and the uniquely fascinating Halycon Cove is no exception. It is, in so many ways, the dream Antigua vacation hotel, offering you the perfect opportunity to enjoy a bracing swim before breakfast or a romantic stroll by night, all at an affordable price.
On the shores of Dickenson Bay, the beach at this All-Inclusive is one of the most beautiful beaches in the entire Caribbean, never mind the over 300 other beaches that are to be found on this Caribbean island.
Nonetheless, this is a hotel in Antigua that is best placed for day trips around this beautiful island and to St John's, the island capital. A stay at the Halcyon Cove by rex resorts for your Antigua vacations means plenty of sun, sea and sand.
If you're looking at all-inclusive hotels in Antigua searching for a special Caribbean hideaway then the Hawksbill by rex resorts is the hotel for you. Set in 37 acres of landscaped tropical gardens directly at the beach, Hawksbill by rex resorts is one of those Antigua hotels that you'll never want to leave.
The beautiful resort has four secluded beaches to offer its guests, including, for budding naturists, the only 'clothing optional' beach in the whole of Antigua. If you're a beach lover and you can't wait to get soaking up the Caribbean sun, then you'll be a big fan of this Antigua hotel.
St Lucia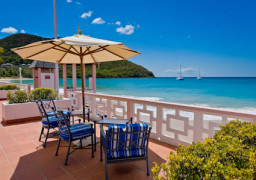 ST LUCIAN 

Experience An Unforgettable All-Inclusive St Lucia VacationSt Lucian by rex resorts, one of the most well-established all-inclusive St Lucia hotels, the St Lucian is located in Rodney Bay within its own landscaped gardens on the Reduit Beach, the island's best beach with its fine light sands.An ideal choice of hotel for anyone who likes lazy days on the beach and who doesn't – in addition to a wide range of watersports and other activities in the calm blue waters of the Caribbean Sea, the St Lucian hotel is one of many hotels in St Lucia that caters for active guests, with one outdoor pool and a gym at the adjacent Royal by rex resorts.If one of your dream St Lucia vacation is to enjoy some pampering and retail therapy then this is top of the list of St Lucia resort hotels that you should consider. The hotel has a small shopping arcade all of its own, allowing you to pick up essential or a few gifts for loved ones. You can slow down to a stroll and slip into the Royal Spa, the perfect place to enjoy a wide range of treatments and therapies within the elegant surroundings of the adjacent rex resort, the Royal.
The peaceful Royal is a St Lucia resort that offers all-deluxe suite luxury accommodation and a pampering Spa, an elegant blend of privacy and sophistication on the beautiful island of St Lucia.
This fabulous Upscale St Lucia Resort offers you privacy and comfort in new refurbished suites that are spacious and well-appointed, in addition to the opportunity to dine in style in award-winning restaurants. A stay at this St Lucia Hotel and Spa, also offers you the opportunity to enjoy a wide range of treatments, therapies and massages.
Are you a sports enthusiast? Good news! This is the ideal St Lucia resort for you… with a wide variety of activities offered close by including water skiing, sailing, scuba diving, parasailing, golf and riding, *available at an additional cost.
The resort also boasts an air-conditioned fitness facility.
This St Lucia resort and spa is located in its own well-tended grounds, on a long section of St Lucia's wonderful Reduit Beach. The combination of a great spa, restaurant and beach makes it the perfect choice for a relaxing break in charming and stylish surrounds, whenever you find yourself needing it.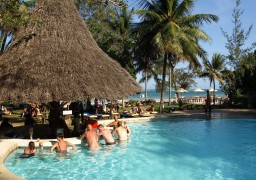 We are proud to announce the reopening of our newly refurbished Papillon by rex resorts!
This all-inclusive St Lucia hotel is located in Rodney bay within its own landscaped gardens on the Reduit Beach, the island's best location with its fine light sands and crystal clear waters. This idyllic beach front resort has it all for those looking to relax and unwind, or if a touch of adventure is needed a wide range of water-sports and activities can be found moments away in the calm waters of the Caribbean Sea.
In addition to the activities along the beach, the resort has an ocean facing pool.  After a day under the sun you can return to one of the resorts 110 rooms boasting relaxing garden, pool or ocean views. Take a breather in our elegantly decorated rooms featuring wooden furnishings, flat screen televisions and all of the main amenities.
After this we can offer numerous dining options within the resort along with nightly themed entertainment to ensure everyone feels involved!
Grenada Hotels

Grenada is renowned around the world for its sophistication and style, and the fabulous Palladian-style All-Inclusive Grenadian by rex resorts is one of the most majestic of all Grenada hotels.
This hotel in Grenada is a great choice for beach lovers, being located on two broad white-sand beaches, one of which is specs. As well as the beaches, this marvellous Grenada hotel affords stunning views across the hills, lakes and across Tamarind Bay to the island capital of St George's and great location to explore the island's many sights and natural wonders.
Tobago Hotels
If you're looking for an authentic escape to the Caribbean, then we have the beachfront all-inclusive Tobago Hotel for you. Tucked away on the shore of its own palm-fringed beach, Turtle Beach by rex resorts is the ultimate of all Tobago vacations, and a warm Tobago welcome awaits!
One of the most child-friendly accommodation options around, this Tobago hotel has a beach where giant Leatherback turtles lay their eggs from March through to July. A morning stroll down the appropriately named Turtle Beach reveals the discarded shells of the baby turtles that have hatched and made their perilous way down to the sea.
Turtle Beach by rex resorts is home to one of the best of all Caribbean beach experiences, offering conference rooms and guest rooms which all overlook the sea. Head near the shore and you'll find an enticing pool with a swim-up bar and whirlpool.
ially ideal to those who just want to kick their feet up, relax and soak up the rays from the hot Caribbean sun. The other is more active, being a water sports paradise, the two of them together providing the best experiences that a Grenada Caribbean holiday has to offer.