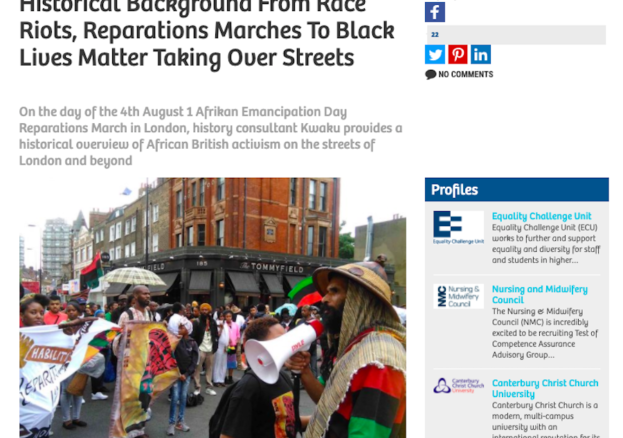 Taking to the street is a long established mode of expression by marginalised and discriminated peoples
In 2017, I published an article here on the day of the 4th August 1 Afrikan Emancipation Day Reparations March.
Three years on, as the event turns into a rebellion, groundings and lockdown in Brixton, south London, I take this opportunity to remind those attending this and similar street-based expressions, to (re-)visit the article for some historical context to what's happening today.
To read 'Going Beyond Street Activism: An Historical Background From Race Riots, Reparations Marches To Black Lives Matter Taking Over Streets', click here.
Incidentally, the month of August is also known by some pan-Africanists as Mosiah, on account of the fact that Marcus Garvey's organisation UNIA-ACL (Universal Negro Improvement Association-African Communities League) traditionally organised events for the whole of the month. In our modest way, we have 3 open forum type events this month.They are all Zoom online forums, where space has been created for participants to listen, learn, publicise or teach one another:
The African Coalition Day 2020: The 'Have Your Say' Forum Saturday Aug 15, 6-9pm
The Marcus Garvey Annual Pan-Africanism Presentation Monday Aug 17, 6-9pm
African History Reflection Day 2020: Interrogating Language Of Identity Monday Aug 31, 6-9pm
Do book early here,