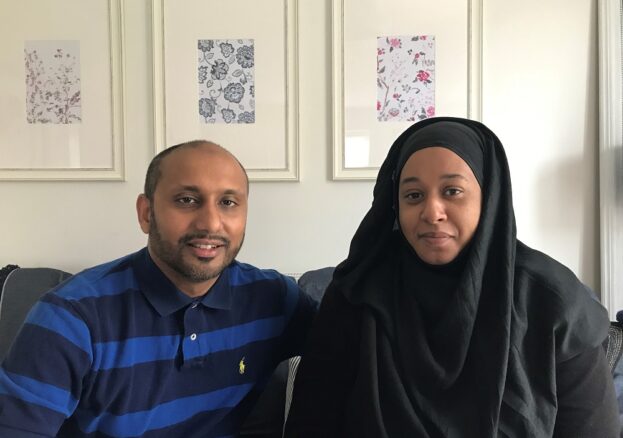 "be brave enough to fight against the cultural barriers that exist between communities when it comes to love and marriage"
Recent events around the Black Lives Matter movement have highlighted racism in wider society. They have also shed light on anti-Black attitudes within some minority ethnic communities, including the Asian community, presenting an opportunity for introspection, and raising awareness.
Wali, who is British with Indian heritage and Mariama, who is British with mixed Gambian and English heritage, have faced racism individually throughout their lives but also collectively in their quest for acceptance as a mixed Asian and Black couple, which is still quite rare despite an increase in mixed race relationships.
The couple who both grew up in Wiltshire met towards the end of their school days and have been happily married for 14 years, with two children. Despite both being Muslim, it is still hard for many Asian families to accept ethnic and cultural differences when it comes to marriage and therefore Wali had to work hard to gain the blessing of his family and at one point faced the possibility of being cut off from them as a result. However, Wali's (now late) Father, a firm believer of the racial equality taught by Islam, supported his son's decision, and convinced the rest of the family to accept the marriage.
For Mariama recent events have also re-opened some wounds from childhood and the challenges she faced being born and raised in rural Wiltshire as one of the only mixed-race children in her village and school. The recent events have forced her to confront the trauma she faced growing up as she recalls being taunted at primary school on a regular basis and endured years of bullying and name-calling.
Mariama remembers being always singled out and feeling inferior due to her skin colour, threatened with violence, and being called the N-word frequently. This was once sprayed across her family's fence. Sadly, the children and the parents in her neighbourhood were at times no different in the way they treated her.
Mariama remembers that her late father also suffered racism throughout his life in the UK, after arriving from Gambia in the 1970's as an engineering apprentice with Cable and Wireless. Fast forward a few years and after years of working for a company in Wiltshire, he felt he was held back from progression due to racism. He was subjected to racist "jokes" and comments while being overworked up until his death in 1998 from a heart attack. Mariama believes this was a direct result of what he had suffered for all those years.
Mariama feels that despite being born in the UK to a white mother, she will always be considered inferior due to being Black. And victim to a double disadvantage as a visible Muslim woman, after she made the conscious decision to wear a headscarf at the height of post 9/11 Islamophobia in 2003.
However, despite the challenges Wali and Mariama have faced and continue to face as a couple and as individuals in society and in the workplace, they believe they are stronger and more resilient as a result. They also hope that more people from backgrounds and situations like theirs will be brave enough to fight against the cultural barriers that exist between their communities when it comes to love and marriage.
Today, Mariama is a successful interior designer whose innovative service was one of the first of its kind in the UK (www.online-interiors.com). She was recently featured in the Times Sunday Supplement as part of a feature on the best online interior design services. She is passionate about making quality interior design services accessible to all groups and communities. Mariama has a classic decorating style, emphasising colours and style.
Wali is an Organisational Development Officer at Wiltshire Council and a Diversity and Inclusion professional delivering consultancy services and training on Unconscious Bias and Equality and Diversity. Connect with Wali on LinkedIn (https://www.linkedin.com/in/walirahman/).