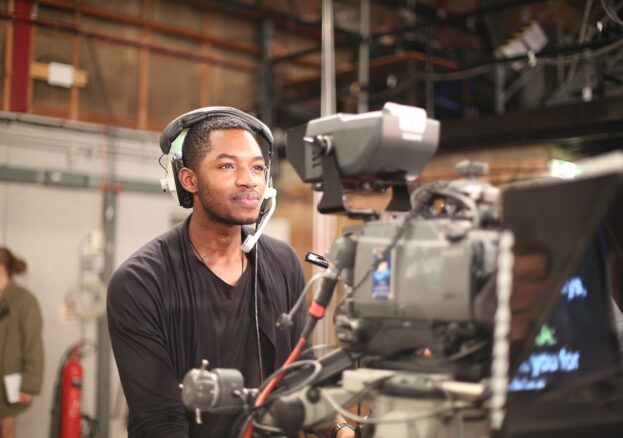 For over half a century, the National Film and Television School (NFTS) has developed some of Britain and the world's top creative talent – for which we were honoured to receive both the 2018 BAFTA for Outstanding Contribution to British Cinema and the Queen's Anniversary Prize for Higher and Further Education.
Celebrating its 50th anniversary in 2021, the NFTS has developed some of the world's top creative talent at the most advanced training facilities in the UK. The School has evolved to become a leading global institution, developing some of Britain and the world's top creative talent. It is widely acknowledged to be the top school of its kind in the UK and one of the best internationally. Over 50% of the biggest box office successes since 2015 have had at least 1 NFTS graduate in a key role.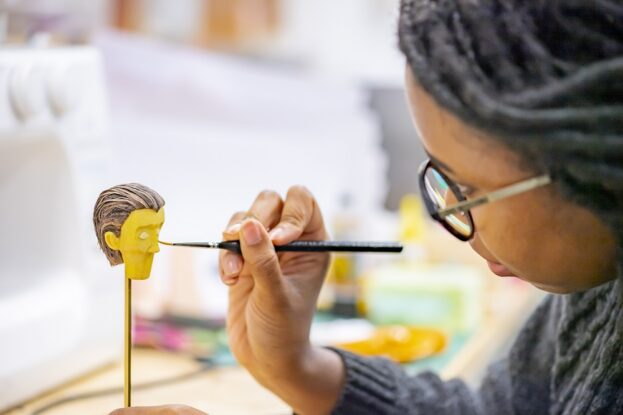 Our graduates include Oscar-winning cinematographer Sir Roger Deakins (Blade Runner 2049 and 1917), writer Malorie Blackman OBE, Laurie Nunn, creator of Netflix's Sex Education, BAFTA-winning 1917 writer Krysty Wilson-Cairns, acclaimed writer/director Joanna Hogg (The Souvenir), BAFTA-winning director David Yates best known for his work on the Harry Potter and Fantastic Beasts franchises, animator Nick Park, creator of the beloved 'Wallace And Gromit' characters, director Yann Demage (Top Boy, '71), renowned arthouse filmmaker Lynne Ramsay (You Were Never Really Here), acclaimed director Alrick Riley (Bridgerton and Once Upon a Time) and award-winning composer Nainita Desai (The Reason I Jump and For Sama).
The NFTS runs more than 30 MA, Diploma and Certificate courses – as well as numerous short courses – across a range of film, television and games disciplines. We have more behind the camera courses than any other film school, including core craft areas such as directing and cinematography as well as specialist areas such as script supervision and production accounting.
Students are taught by industry professionals, with access to state-of-the-art facilities and once-in-a-lifetime masterclasses. With a graduate employment rate of over 90%, all courses are designed to equip students with the essential skills needed to make an impact in the film, television and games industries as soon as they graduate.
The NFTS leads the way in bringing forward the best talent and is an essential talent pipeline for the UK's creative industries. We want the British film, television and games industries to reflect the full range of voices and experiences of modern Britain. That is why we take diversity seriously and why we are committed to creating an inclusive environment in which everyone feels valued and where the distinctive contributions of each individual are recognised.
We are committed to supporting diversity within the film, television and games industries – one in four recent NFTS graduates are from Black, Asian and minority ethnic backgrounds versus only 3% in the industry overall.
48.03% of our MA students are female and 25.33% are ethnically diverse. Diversity schemes include a Diverse Directors Workshop to increase number of women and people from ethnically diverse backgrounds working in screen directing. The first cohort showcased their films at Channel 4 in May 2018.
We want to ensure that the NFTS reflects the full diversity of our country and that our students and graduates are seen, heard and represented across all areas of the industry in which they work and shape.
Student selection
More diversity on more courses equals a broader range of perspectives and viewpoints across the industry. Students are assessed as individuals according to their relevant skills, abilities and merits and all have equal access to learning opportunities within the School. We are actively seeking to redress imbalances within the industry by encouraging dynamic people with appropriate talents and skills to apply, whatever their ethnic or national origin, age, gender, class, sexual orientation, disability, religious or political beliefs.
Equality, Diversity and Inclusion Policy
Annual Equality Summary
Scholarships and Bursaries
We are committed to helping potential students of genuine ability make their finances work no matter what their background or circumstances. As an institution that develops the next generation of creative talent, we feel a special responsibility to ensure our creative industries reflect the full diversity of our country.
Scholarships and bursaries are available for full time MA and Diploma courses. Visit our Funding Guide for more information.
Toledo Scholarship
Toledo Productions supports diverse new British voices and talent. The Toledo Scholarship was established in 2005 by one of the world's most successful producers and NFTS governor Duncan Kenworthy (Four Weddings and a Funeral, Notting Hill) to enable talented newcomers from the UK's ethnic minorities to fast-track their ambitions and join the British film industry. Since its inception, over 30 scholars have benefitted from £300,000 of funding including writer/director Shola Amoo (The Last Tree), editor Mdhamiri Á Nkemi (Blue Story) and producer Kurban Kassam (Ginger and Rosa). More information is available on our Toledo Scholarship page, where you can see how it has helped British Black and Ethnic Minority students successfully train at the NFTS.