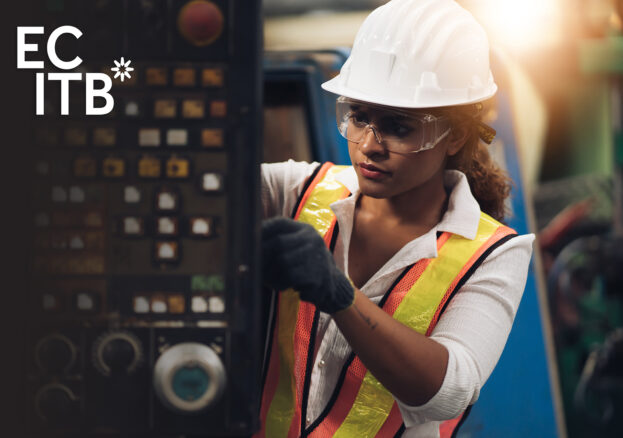 Imagine a world where there was no heat to warm our homes, no clean water to drink and no petrol to fill our cars.  Sounds like something from science fiction.  But without Engineering Construction our world would look and feel very different.
Engineering construction is the industry that looks after the UK's, and the wider worlds, critical infrastructure. They design, construct and maintain the industry sites and process plants responsible for production of oil, gas, chemicals, water and food, and power generation.
The Engineering Construction Industry Training Board (ECITB) is an arms-length Government body that works to attract, recruit and train the skilled workforce required by the engineering construction industry to keep the world moving.
About Engineering Construction
Engineering construction makes up more than one-fifth of the total UK economy and supports the nation's critical infrastructure.  190,000 people work in engineering construction in the UK, contributing around £100 billion to the economy.  Workers design, test, install, maintain, repair, commission and decommission industrial facilities from wind farms to nuclear power stations to sports stadiums. Engineering construction will be at the heart of the revolution as we start to make serious progress towards the energy solutions needed to tackle climate change.
What our people do?
People working in engineering construction design, test, install, maintain, repair, commission and decommission industrial facilities. They work on the design and installation of new energy solutions and are instrumental in helping to decarbonise existing facilities.  As a result, our people are crucial helping to tackle climate change and achieving Net Zero. There are a wide range of careers available in engineering construction. Whether you have technical skills or a flair for design or leadership qualities there are roles to suit different interests, skills and aptitudes.  The best bit is we all come from different backgrounds and bring unique strengths and ideas so that they can be used to make a better future for all.
Apprenticeships in engineering offer an ideal path into a career in the engineering construction industry.  For employers, apprenticeships develop committed and talented employees who learn their skills on the job. For learners, apprenticeships in engineering provide an opportunity to earn while you learn.
And as you can imagine, we love a hard hat.  But we also love offices, laboratories, offshore vessels and working with cutting edge technology like drones, carbon capture and even lasers on occasion.
Equality, Diversity & Inclusion
The ECITB is committed to supporting industry in developing inclusive workplaces where all employees can reach their full potential and where individual differences are fully valued and respected.
Attracting a more diverse range of recruits into engineering construction is another key priority for the ECITB.  There is a clear need to ensure new entrants to engineering construction are better representative of the UK population as a whole.  By opening up recruitment to a wider, more diverse talent pool, the industry will benefit commercially, culturally and through more innovative problem-solving. But individuals will benefit too from being part of well-paid industry that is contributing to the energy transition in a vital way.
To mark its own commitment to bringing about positive change across industry, the ECITB has created the Inclusion, Diversity, Equality Action Taskforce (IDEA).
To learn more about IDEA and its ongoing campaigns and initiatives visit https://www.ecitb.org.uk/diversity-inclusion/
Or download our digital brochure here https://www.ecitb.org.uk/wp-content/uploads/2022/06/IDEA-Booklet-web.pdf
Pathways and Qualifications
Skills underpin everything we do in engineering construction.  Some you will bring with you, many more you will learn as you continue your career journey. Apprenticeship programmes within our industry aim to develop the inherent skills and attributes of our people to enable them to have successful careers in a dynamic industry.
The engineering construction industry offers a full range of apprenticeship schemes that will suit a variety of interests, skills and aptitudes. There are industry entry points for people with traineeships, graduate and post graduate qualifications.
As we move into a world of new technologies and continue our journey towards Net Zero it's crucial that we provide the right opportunities to attract and develop a world leading workforce.
In 2020 we launched the ECITB Scholarship Programme.  Working in partnership with a number of training providers, the programme offers an excellent opportunity for those aspiring engineers of the future that wish to pursue a career within the Engineering Construction Industry (ECI) in a craft or technical discipline.  Learners will acquire a level 3 engineering certificate as well as relevant site passports. For employers, this is an excellent opportunity to recruit a young person who has had the requisite training to be either fast-tracked into an advanced stage of an apprenticeship or be recruited as a direct site hire.
During their studies learners will acquire nationally recognised engineering qualifications as well receiving other skills training relevant to their chosen discipline.
The ECITB Scholarship Programme allows individuals to train and qualify in one of the following occupations 
Craft:
Pipefitting
Mechanical Installation
Pipe or Plate Welding
Electrical Installation
Rigging and Erecting
Non Destructive Testing
Fabrication/Welding
Technicians:
Design and Draughting
Project Control
Mechanical maintenance
Electrical maintenance
Instrumentation and control
You can learn more about the programme here www.ecitb.org.uk/ecitb-scholarships/
If you want to find out more about working in the Engineering Construction Industry the following links are a great place to start
www.ecitb.org.uk/apprenticeships-careers/careers-engineering-construction/
www.ecitb.org.uk/apprenticeships-careers/apprenticeships-in-engineering/
INWED Roundtable 2022