Today's modern RAF is the UK's aerial, peacekeeping and fighting force. It's made up of impressive full-time Regulars and spare-time Reserves who come from diverse backgrounds and work side-by-side to make a difference at home and abroad. When it comes to recruitment our focus is attracting the best personnel, and ensuring they're well taken care of during and after their service in the RAF.
OUR ROLE AT HOME
Our primary role at home is to defend UK airspace. We do this through reconnaissance, intelligence gathering, surveillance, and cutting-edge technology that enables rapid responses.
Equally important is the work we do in communities across the UK and beyond. We're actively involved in raising money for a range of charities, hosting youth leadership courses, getting our hands dirty to protect the environment, helping sea turtles threatened with extinction, and taking part in community projects. This is in addition to the world-famous aerobatics displays and ceremonial events that form an integral part of life in the RAF.
OUR ROLE ABROAD
We may be a fighting force that provides flexible and specialised air power, but our role abroad includes more than that.
In trouble spots around the globe, we help police the skies and support peacekeeping and reconstruction initiatives. We do this through temporary deployments overseas and permanent commitments like our base in the Falkland Islands where Eurofighter Typhoons, Sea King helicopters, a Hercules transport aircraft and RAF personnel are based to maintain stability in the region.
It's not always about our interests though. We provide humanitarian aid to victims of war and natural disasters, deliver life-saving shelters and food supplies, and even airlift people to safety. Our RAF personnel have worked tirelessly in disaster zones like the tsunami in Indonesia and earthquake in Pakistan. Whether they're preventing a civil war, providing relief and aid to countries that need it most or thwarting terrorist actions, being a force for good is what our work is really about.
THE OPPORTUNITIES
We offer 50+ roles ranging from drivers and photographers to engineers and nurses, but the opportunity and lifestyle that comes with joining the RAF is bigger than that.
Regardless of role, gender, age, background or qualifications, we offer:
World-class training and ongoing development 
A highly competitive benefits package
A culture of camaraderie
Individual responsibility within a wider team of exceptional individuals
Full-time Regular and spare-time Reserve commitment levels
The ability to see and stay in touch with your friends and family, while also forging new friendships
Sporting opportunities and facilities
Top-of the line kit
The opportunity to be part of an equal opportunity organisation listed as one of the Times Top 50 Employers for Women
APPRENTICESHIPS
We have more than 20 roles to choose from with RAF delivered apprenticeships rated Outstanding by Ofsted
RAF apprentice earns £14,700+ Per annum/pa from day one, going higher once they progress into their phase two training while a Civilian apprentice earns £6,864 annum/pa from day one on average
Currently there are 21 different roles for apprentices from drivers and caterers to intelligence and engineering
Civilian qualification with a guaranteed RAF job at the end of it
You'll still need to go through phase 1 RAF training, then get your Level 2, 3 and 4 apprenticeship as part of your phase 2 (trade) training. Can last 1 year to 3 years of training
You'll also receive dedicated on base medical and dental care
An apprenticeship in the RAF offers you the chance to gain a UK-recognised trade qualification as part of a challenging and unique career. Not only will you gain a civilian recognised professional qualification, but upon completion you'll also have a guaranteed job in your chosen field.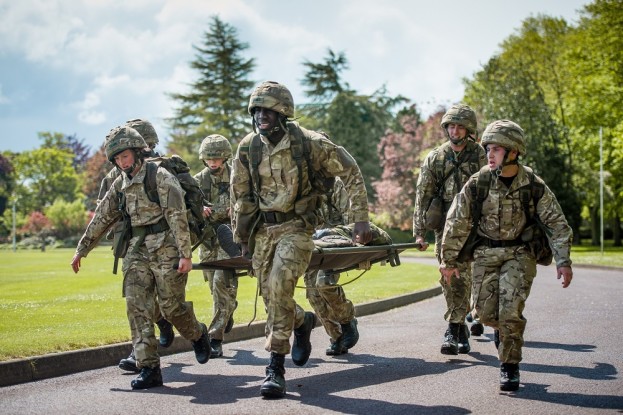 We offer all kinds of apprenticeships in a broad and diverse range of careers including aviation operations, engineering, hospitality & catering and IT. You'll receive the very best training and as well as getting paid to learn, you'll get the chance to travel the world, play sport and perform an important role in the RAF.
If you have the drive and ambition, we can offer you a unique and rewarding career. To gain an apprenticeship in
the RAF you still need to meet all of the entry requirements for whichever role it is for and get through all stages of the application process. You will gain the apprenticeship as part of your phase two (trade) training.
Browse through roles and take a look at our Lifestyle & Benefits section to learn more about the opportunity that awaits you