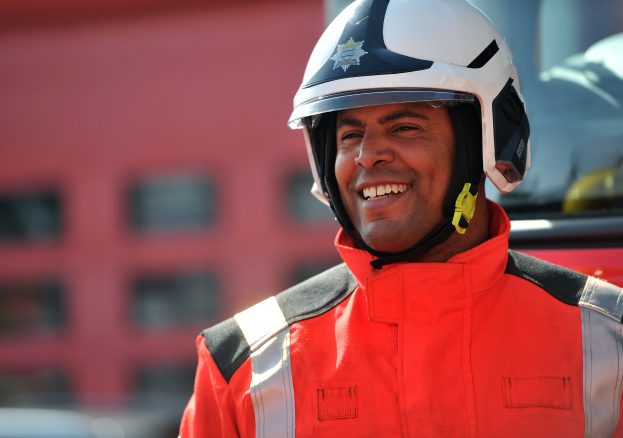 Helping to prevent fires and accidents from happening in the first place is the other major part of a firefighter's role. We work in the community talking to people of all ages and backgrounds to help them understand how to stay safe. Our operational and community fire safety staff work with a range of social, health care, voluntary agencies and other emergency services to keep our communities safe.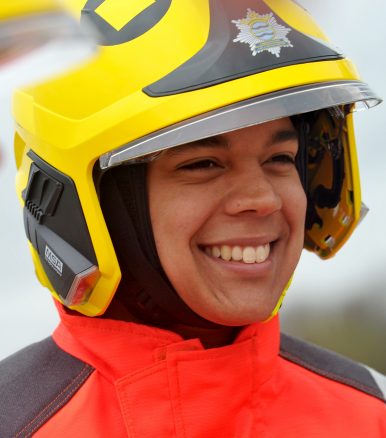 Jordon Cadogan, who is a wholetime firefighter at Huntingdon Fire Station, passed his Fire and Leadership Studies Undergraduate Degree to become a firefighter. "It's the only job I've ever wanted." he said.
"It's something different every day while also knowing that you're helping the community."
Meeting the demands of a diverse county
Cambridgeshire is a mix of cities, market towns and rural areas – so we also employ on-call firefighters who live or work close to their local station and respond from home or their main place of work when needed.
Firefighter Dezmond Lartey, from Thorney Fire Station, was named on-call recruit of the year at the Service's 2017 Excellence Awards.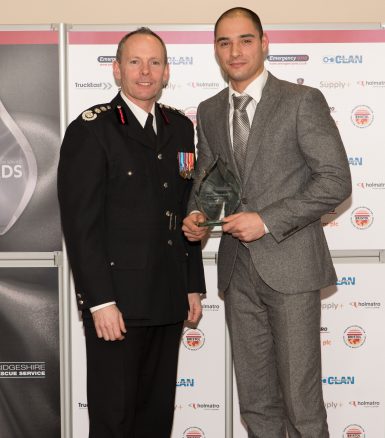 Dez completed his initial on-call firefighter recruits course in November last year (2016) and won his award after being praised for his 'outstanding' physical and theoretical skills together with his determination to give 100% to everything which meant he raised the bar for everyone else on his course.
The tree surgeon by day said he joined the fire service to get involved with helping his community.
More than half of the workforce of Cambridgeshire Fire Service is made of up on-call firefighters and are an invaluable asset to our service.
Endless Opportunities
Continuously developing our staff and helping them fulfil their potential is a priority at Cambridgeshire Fire and Rescue Service, no matter where you started from.
Station Commander Farsh Raoufi has been in the service for 27 years.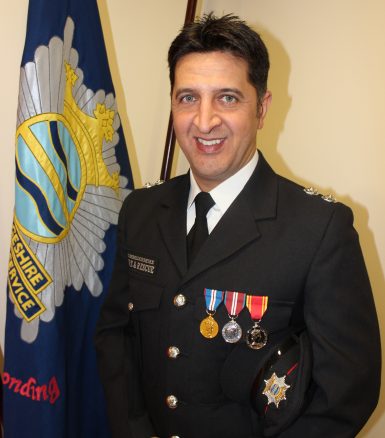 When Farsh first arrived in the UK as a young adult from Iran and unable to speak a word of English, joining the fire service was not the first thing on his mind.
After school and college he worked in the fitness industry and coached different sports before turning his gaze to the world of firefighting and the challenges it could provide.
"There is a world of opportunities in the fire service and they are only limited by our own thoughts and actions. I wanted a new challenge so I looked towards the fire service.
"I like the ethos, working in a team and the fact that there's a single aim everyone is working towards. The opportunities are there to put out fires, work in the community, be an instructor, lead, help people – it's all there in front of you.
"The opportunities are endless."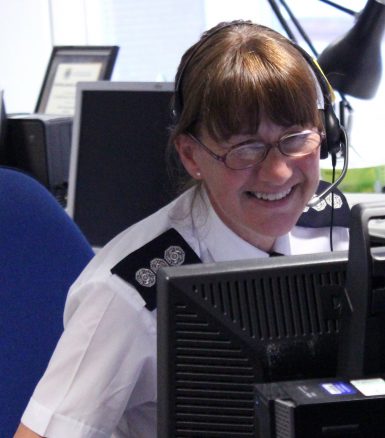 In Control
There are many other roles that support the emergency response and prevention side of the fire and rescue service. Crews in our combined fire control are the first port of call for people who need our help. They receive emergency 999 calls, mobilise fire appliances and offer reassurance that help is on its way.
Our combined fire control room takes 999 calls from both Cambridgeshire and Suffolk.
Station Commander Debbie Vickers has been in her current management role for 11 years and says:  "Working in Fire Control is varied, hard work but very rewarding. I've been given lots of opportunities through leadership courses, which have helped me as a manger, challenged how I view problems and given me greater confidence."
#NotJustFires
About 20% of our staff are employed for their professional skills, for example in ICT and finance, project management, equipment, vehicle and property maintenance as well as health, welfare and business support roles. Fiona Tonyin, 23, works within the Service's Business Support Group, which provides business support across the Service.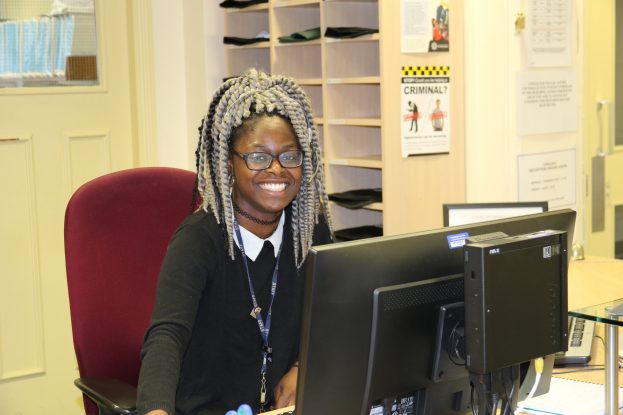 She said: "Out of all the previous jobs I have had, this is the most welcoming and laid-back environment to work in and everyone is very nice and everyone is willing to give you a hand, even if it is the most random query. There is a real sense of community and union here."
Emergency services face many challenges these days and we know that we need diversity within our teams to be at the top of our game. That's why we want to recruit the best from a wide range of backgrounds – could that be you?