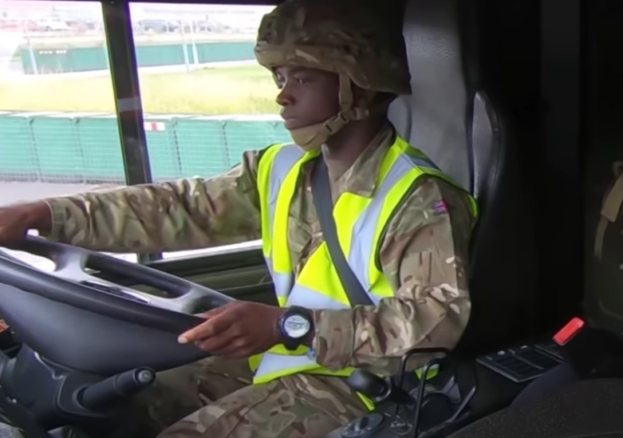 Logistics (Driver)s are required to drive and operate a wide range of general and specialist vehicles, from Passenger Carrying Vehicles (PCVs, which include cars, minibuses and coaches), to both rigid and articulated Large Goods Vehicles (LGV) and mobile cranes; you will also refuel aircraft using tankers.
It will be your responsibility to make sure that RAF personnel and equipment get to the right place, at the right time and in good condition to meet Defence's operational output. You will be driving or operating on exercises and on operational deployments, on and off airfields and throughout the world, both on paved roads or on rough terrain. You will drive an array of different passengers (including VIPs), LGVs carrying an array of equipment, which will include transporting hazardous materials using the Carriage of Dangerous Goods by Road (ADR) qualification you gained during your Initial Trade Training.
Within your first few years, you will probably be detached overseas for anything from a few days, up to several months. As a specialist and professional vocational driver, you will be expected to maintain the highest standards of dress, deportment and driving technique. You must work as part of a team, whilst having the capability and confidence to work and make decisions independently. Full training and support package is available to the Logistics (Driver) throughout their career.
Typical Responsibilities
Drive a range of vehicles throughout the UK, Europe and on worldwide operational deployment or field exercises, both on roads and over rough terrain
Train and operate specialist vehicles supporting the RAF's airfields in the UK and deployed worldwide
Transport personnel and goods (incl. hazardous materials) between units using Large Goods Vehicles, coaches and Troop Carrying Vehicles
Initial Training
Your career will start with a 10-week Basic Recruit Training Course at RAF Halton in Buckinghamshire. The course is designed to help you adjust to a military environment. As well as fitness and military training, you'll also learn about the RAF lifestyle.
Specialist Training
Your next step will be the specialist driving course at the Defence School of Transport at Leconfield in East Yorkshire, which takes up to four months. During this course you will be trained to pass driving tests in categories B, C, C+E and D; you will also learn additional military driving skills such as Vehicle Loading and Restraint, Off Road Driving, Skid Avoidance and Recovery Techniques as well as the procedures and regulations for carrying dangerous goods by road (ADR).
At the end of the course, you will have passed your driving tests (if you haven't already done so before you join) and earned the SQA ADR Driver Training Certificate for Carrying Dangerous Goods by Road (ADR). You will also be well on the way to achieving an Intermediate Apprenticeship (L2) in Driving Goods Vehicles .
Education Requirements
No GCSE requirements.
You must have, at least, a UK DVLA provisional driving licence. You must not have any endorsements (penalty points) or a driving ban which would prevent you from holding an LGV licence, if you are under the age of 21. A maximum of 3 penalty points for Minor Traffic Offences (such as SP30) will be accepted for over 21 years of age. Any serious driving convictions (such as DR 10 to DR 30) are not acceptable due to the limitations on the type of employment you will undertake.
For more information about the role and details of our application process, visit the RAF Recruitment website.