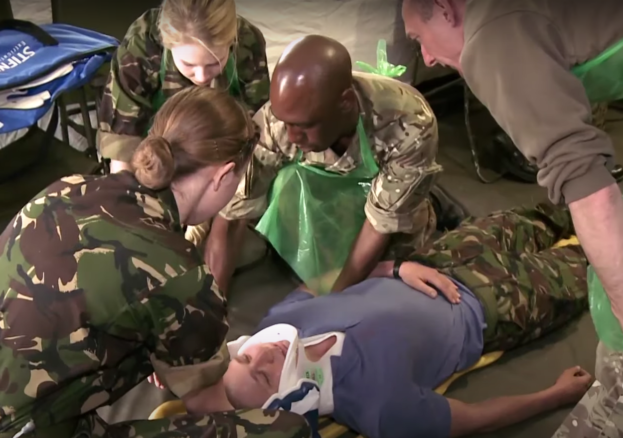 As an RAF Medical Officer, you will deliver a high standard of care, sometimes under challenging conditions. All RAF Medical Officers receive basic training in aviation medicine and have the opportunity to train further to provide specialist medical support to the RAF and the UK Armed Forces, including Aeromedical Evacuation.
Your role is pivotal in maintaining the effectiveness of the RAF in delivering Air Power by maximising the fitness of personnel for their tasks.  You will deliver a high standard of care under demanding but rewarding conditions, including the extra challenges of working in a field hospital or deployed medical centre; often in austere settings.  The RAF employ specialists in most of the major branches of medicine and surgery and you will have the opportunity to excel in your chosen specialty.
Funding and support from the RAF could help turn your medical career plans into a reality
Whether you are looking ahead at a medicine degree or already on your way towards one, you will know just how many career options it can make available. But have you considered the extra boosts that becoming an RAF Medical Officer could provide?
You will still deliver the same first-class medical care that you would as a civilian doctor, but the RAF can help you progress your professional development in ways not available to other doctors.
You could even be sponsored through part of your training in the form of a bursary or a cadetship.
Keep reading to find out how the RAF could help you complete your medical degree.
What does an RAF Medical Officer do?
Medical Officers play a vital part in the RAF by ensuring personnel are fit and medically prepared to fulfil their primary tasks and Operational deployed roles.
They deal with the same conditions as NHS doctors but also encounter complex health issues specific to working within an aviation focused environment.
On top of that, they are prepared for the demands of working in austere conditions within Deployed Medical Treatment Facilities on Exercises and Operations abroad with the RAF or wider Defence Medical Service.
Where might you work?
There are many options for Medical Officers within the RAF. Depending on your specialization of choice and RAF requirement, there are a number of areas within secondary health or primary healthcare for you to choose from. You could choose Pre-Hospital Emergency Medicine, General Medicine, Surgery, General Practice to name but a few.
Or you could join an Aeromedical Evacuation team, managing the physiological challenges relevant to casualties in-flight medical management or wider aviation medicine considerations.
On the ground you could work as a Station Medical Officer (General Practitioner), responsible for the health and wellbeing of the military populous, including aircrew on an RAF base and with possible progression to Senior Medical Officer or GP trainer. There may also be a requirement for you to treat Service personnel's family if you are based at a GP training unit.
You could become a doctor or consultant in a Joint Hospital Group or NHS hospital, practising alongside civilian colleagues treating NHS and military patients. You would also get the chance to use your specialist skills in facilities overseas, on operations and even during humanitarian and disaster relief missions.
And for a more advisory role, an Air Command Medical Officer is the link between medical and flying policy. They ensure that RAF aircrew operate safely while at the edge of human endurance.
The next stage
After completing your foundation training, your intermediate commission in the RAF will commence.
This comprises a two-year programme where you will practise the key skills and knowledge you have obtained at medical school during a series of rotations through different specialties. You will complete these as part of the Military Foundation Programme, managed by the Defence Deanery.
On successful completion of your Foundation Years, you will return to RAF College Cranwell to undertake your RAF officer training, before being posted to an RAF Station where you'll work as a General Duty Medical Officer.
Here you will experience life on a working RAF base, and attend training courses appropriate to your future role.  It during this time that you will Benchmark for your specialty.
You will then undertake your specialist training either in a RAF medical GP training centre, or at a Defence Medical Group Unit within a NHS hospital.
Your future
An RAF medical career contains the same rewards and responsibilities as its civilian counterpart, plus plenty of other military challenges and incentives.
There are significant training opportunities within the Royal Air Force, including further medical education such as: Diploma in sports and exercise medicine; Occupational Medicine or Aviation Medicine, adventure training, and additional training for your core Officer outputs.
You'll also build up a host of valuable, transferable skills that will enhance your future career options.
For more information about the role of RAF Medical Officer, take a look here. You can check your eligibility for RAF Medical Sponsorship here.
Education Requirements
Direct entrants must be fully registered with the General Medical Council. Sponsorship is available for the final three years of study in a UK Medical School.
For more information about the role and details of our application process, visit the RAF Recruitment website.