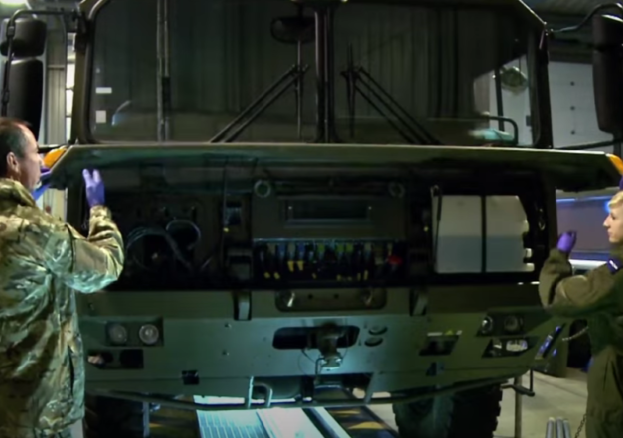 As a Royal Air Force Vehicle & Mechanical Equipment Technician, you could maintain a range of plant equipment used in support of aircraft and air operations as well as Airfield and Combat Support vehicles.
This can include power-generating equipment for starting aircraft, haulage and lifting gear, hydraulic power rigs, air compressors, mobile air cooling and conditioning units, aircraft handling loaders, aircraft towing vehicles and more. The work ranges from routine inspection to fault diagnosis and complete overhauls and is generally based at operational flying stations.
Typical Responsibilities:
Maintain airfield support equipment that provide aircraft with electrical power, hydraulic pressure and support other critical systems whilst on the ground.
Test and repair airfield arrestor systems, which prevent aircraft from overshooting the runway
Overhaul specialist aircraft fuel transporters and large aircraft loaders
Similar civilian roles include Plant technician, Design and test technician, Mechanical engineering technician or Automotive technician.
We offer an apprenticeship with an almost guaranteed job at the end.  Throughout the apprenticeship and beyond, there are opportunities for adventurous training, sport and an excellent benefits package.  As a training provider we are rated as OFSTED Outstanding. Our apprentices earn over twice the apprenticeship minimum wage with annual incremental rises (performance related).
We also offer free medical and dental support, subsidised accommodation and catering coupled with 6 weeks paid holiday a year plus public holidays and much much more.  Search for "RAF Recruitment Benefits" for more info.
The RAF Vehicle and Equipment Technician is not just an apprenticeship; we take applications up to the age of 47 for those who want a change in job into a diverse expeditionary role.
Qualifications you need
GCSEs at Grade C (Grade 4 to 5 with effect from Aug 17) or equivalent in English Language, Mathematics or SCE Standard Grades at Grade 2/Scottish National 5 in English, Mathematics and an approved Science/Technology-based subject.
Joining age
16-47
Other entry requirements
You must be a citizen of the UK, Republic of Ireland, or a Commonwealth citizen since birth.
Whether or not you were born in the UK, you should have resided there for 5 years immediately preceding your application.
As a Vehicle & Mechanical Equipment Technicians you will be enrolled on an Advanced Apprenticeship during your specialist training. On successful completion of this training course, you will receive your first posting. Your training, along with the experience you gain on the job, should lead to the award of an Advanced Apprenticeship Level 3 Engineering Technician – Mechatronics Maintenance Technician (Mechanical) with the additional qualification of a Level 3 Diploma in Light Vehicle Maintenance and Repair Principles by the 3-year point.
The RAF recognises the value of a person's ability no matter their ethnicity, social background, religion or belief, gender identity, sexual orientation or marital status/civil partnership.
For more information about the role and details of our application process, visit the RAF Recruitment website.