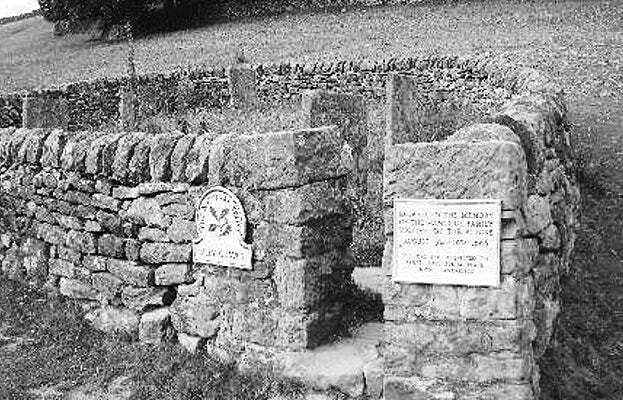 Eyam, Derbyshire The Real Village of the Damned Interactive Ghost Walk Events
ALL it took was a contaminated bale of cloth to kill off almost an entire village.
Eyam, known as the Plague Village of Derbyshire, was ravaged by disease during The Great Plague of 1666.
When the cloth, sent up from plague-ridden London and teeming with fleas, was hung to dry by a local tailor, it unleashed pain and pestilence upon the whole village.
The plague, caused by bites from infected rats and fleas, left sufferers keeled over, vomiting and spluttering as they bled uncontrollably and their skin turned black.
George Viccars, the tailor's assistant who hung the infected cloth, was the first of 260 people to die during the outbreak in the village.
But among the unimaginable horror of the disease, which spread like wildfire in the summer sun, the villagers took an incredible, brave stance to save others from their own fate.
William Mompesson, the town's rector, watched in fear as villagers begun to pack up their things and prepared to flee the plague town. So he enlisted the help of an exiled reverend, called Thomas Stanley, to intervene and implore the villagers to do something remarkable.
On 24 June 1666, Mompesson called Eyam's residents together and begged them to quarantine themselves so that the disease couldn't spread into neighbouring settlements.
Incredibly, the whole town vowed to sacrifice their lives to stop the pestilence which had been festering in Eyam from claiming any more lives.
By August, the sweltering heat of an unusually hot summer pushed the villagers to desperation.
Mothers buried their own children, and husbands buried their wives as outsiders watched from a nearby hill – too scared to come any closer to residents of the plague town.
Mompesson remarked that his wife, Catherine, had noticed a sickly sweet smell in the air the day before she died, while he described the stench of "sadness and death" in letters from beyond the cordon.
But come November, the plague died down without having spread further, meaning the town's sacrifice had saved countless lives.
Today, rumours swirl that the town is haunted by the ghosts of those who were claimed by the plague epidemic.
Unexplained footsteps allegedly echo around the Miner's Arms pub, but in a village where every house is adorned with plaques bearing the names of plague victims, it's impossible to know whose steps they are.
Guests who stay at the inn have reported their doors opening and slamming mysteriously, accompanied by a chorus of ghostly giggling.
At Eyam Hall, Sarah Mills, a servant girl who drowned in the village well, has reportedly been sighted. And, understandably, visitors say they can't walk past the headstones dotted around the surrounding area without feeling chills.
Join Haunting Nights on An Interactive Ghost Walk around the village taking in the paranormal hotspots and legends of the hauntings. Interactive Ghost Walk includes different methods of ghost hunting and history talk.