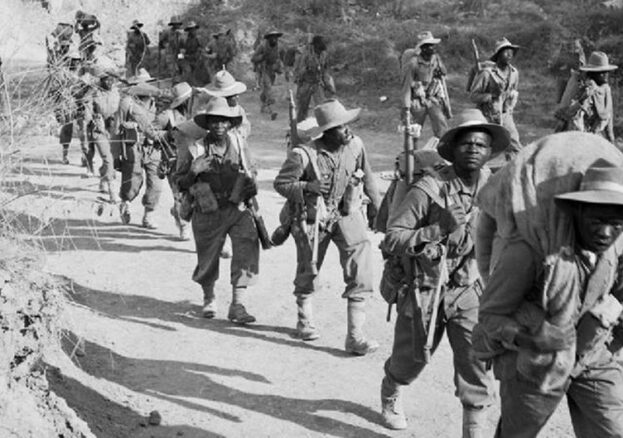 My beloved Grandfather Nikanori Oming, was one of the fifteen children born to Bua Aryec and Atim Alito on 2nd September 1920 in Abok village, Ngai, in Northern Uganda. Most of his siblings died as infants, so only two of them survived, him and his sister Apio. The cause of infant deaths occurred due to the lack of immunisation. Bua Aryec hailed from the Arak Opelo, a very successive warrior clan. Bua was highly respected as the rainmaker, a priestly role among the Lango tribe.
Nikanori Oming studied up to Primary four at Aculbanya Primary School in Aboke. He could not continue with education since his father could not afford to pay the school fees. Thereafter, he went to teach at Ototong sub-grade school in Ngai. At that time, a beautiful young girl, named Consy Achola had fled her home, in fear of pressure exerted on her for an arranged marriage. She was staying with her Uncle, Lacito Obwor of Ajejeri homestead in Ototong village, Ngai. It was there that they met. Because the dowry (bride price) asked from him was 25 cattle, 15 goats, and other assorted items; Oming could not afford it. He was so in love with his young girlfriend that he begged her and his future father-in-law to wait for his return from the army.
In June 1941, Oming joined the British Army recruits at Lira, North Uganda. They were transported south to Magamaga Barracks in Jinja for a short training. From there, they were transferred to Gilgil Barracks in Kenya for an intensive training. Once these exercises were complete, he was registered in the 11th African East Division.
Malaria was, and still is, a human threat as a killer disease. The British authorities felt that African soldiers would be well suited to jungle warfare and that they were less susceptible to malaria. So, in June 1943, they were taken to Ceylon Island, India for further training. Thereafter in June 1944, they were taken to Burma to fight with the Fourteenth Army during the Burma Campaign.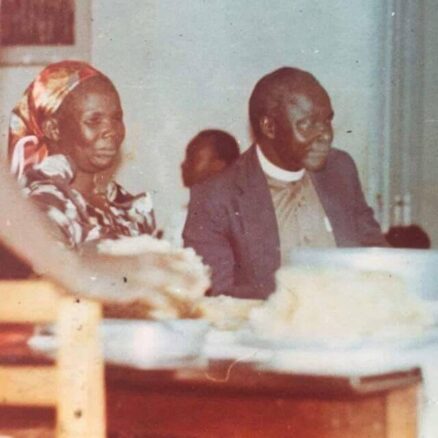 My grandfather recalled an incident when the scouts identified a hill for them to camp. They were unaware the Japanese soldiers had identified the same hill and had camped up there before them. The Japanese spotted them as they advanced towards the hill. As they were climbing up the hill, the Japanese army had laid an ambush and launched a surprise attack on them. He spoke emotionally about his escape; how he rolled down the valley, losing his gun in the process. He got lost in the forest for one week, feeding on berries and using a combat knife to cut his way through the thicket. The battle intensified in the horrendous terrain of the notorious Kabaw Valley. His team artillery bombed the Japanese camp so hard that they smelt of smoke. They pursued the Japanese retreating from Imphal down the Kabaw Valley, where the Japanese suffered heavy casualties.
In 1945, Sgt. Oming returned to Uganda, he came back with medals and plenty of money to marry his beautiful bride. I am proud that my grandfather was such a remarkable man. He was a loyal, caring and a loving husband and father. Oming and Consy were happily married for over 50 years. They had 10 children, two live in the UK. My mother Rosette Oming is a Senior Diagnostic Radiographer at the Imperial College Healthcare NHS Trust. My Aunt Anne Ekinu is a Diabetic Specialist Nurse at Lewishham and Greenwich NHS Trust. Sgt.Oming and Consy had 34 grandchildren, including 62 great grandchildren and 10 great great grandchildren. My grandfather was ordained as a Church of England Reverend and he served the Lord until his peaceful death in1990. My fondest memory of my grandfather was sitting beside him in the evenings and listening to BBC News with the then radio presenter George Alagiah.
My self-help book "Transform Within – 7 Strategies for Professional Growth and Resilience" is dedicated to my beloved Grandmother, Consy Oming, who was the Matriarch of our family. She inspired both my mum and aunt to go into healthcare profession, who have worked in The NHS for 60 years combined. She was also a fierce woman, yet very caring and kind. Although, Consy had no formal education, she was a treasurer for the Mothers Union and community midwife. In May 2008, with her family beside her, our Mama peacefully passed away at the age of 83 years old. The family have built a memorial school for Sgt, Reverend Nikanori and Consy Oming in Ngai, Uganda.
The pandemic crisis has had a terrible impact on my families in Uganda. Many are without work, students are at home, and the memorial school in our grandfather's name is closed and in need of funds. To honour our grandparents and to keep their story alive, we have set up a crowdfunding page on JustGiving.
Our entire family is grateful to Black History Month magazine for giving us this platform to share our grandparent's story. "We Stand on the Shoulders of Giants". I would like to leave you all with this inspirational phrase and wish you a peaceful and blessed Black History Month for 2020.
"If you want to go fast, travel alone. But if you want to go far, travel together." Unknown, African Proverbs.
About Faith Ruto, (MBA, BSc)
Faith is the Founding Director of www.transformation21st.com, an innovative personal development consultancy that equips professionals and businesses with resilience to thrive and grow during uncertain times. Faith coaches emerging leaders on confidence, visibility and career success strategies. She's a sought after Keynote Speaker who inspires others to live by faith, not fear. Faith has worked with multinationals such as Shell, British Red Cross, imperial College, just to name a few. If you are a BAME professional feeling stuck in your career, then Faith can help. If you are an Organisation looking for an inspirational speaker, then book Faith.
Contact: info@transformation21st.com
Visit: www.transformation21st.com
Follow: @faithrutot21st
Please donate by visiting JustGiving:
https://www.justgiving.com/crowdfunding/coronavirusrelief?utm_term=ZW6Yr9GGa
You can also support us by buying Transform Within from Amazon: 50% of the book sale during October 2020 will be donated to helping families and the school in Uganda