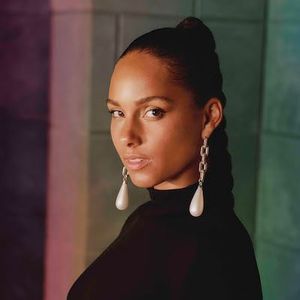 Alicia Keys (born Alicia Augello-Cook; January 25, 1981) is an American R&B/soul singer-songwriter, composer, record producer, pianist, and actress. Keys is a renowned artist who has sold over 25 million albums and singles worldwide and won numerous awards, including eleven Grammys, ten Billboard Music Awards, and three American Music Awards.
The road to success wasn't an easy one. Of mixed parentage (Terri Augello and Craig Cook), she grew up in Harlem, New York City, New York. To cope with the street life, Keys turned to piano-playing at the age of seven. She attended the Professional Performing Arts High School and rehearsed with vocal coach Conrad Robinson at the Harlem Police Athletic League Community center until age 16. During this time, she graduated as her high school valedictorian and was accepted to attend Columbia University. Robinson introduced Keys to his brother Jeff, Alicia's 'batman', who began searching for the right label.
Just before starting college, Keys signed her first deal with Columbia Records, and had to make the difficult decision to leave college in order to pursue her musical dreams. However, she later left Columbia Records due to creative differences. Keys felt they were intruding upon her artistic freedom, and she wanted out. In 2000 however, her wish came true when Clive Davis, who headed Arista at the time and who had the same vision as she did, came up with the money to buy Keys out of Columbia. Keys had found a new home with Clive Davis, and when he established his new label J Records, she moved on with him.
She finally had a home; a place she could be herself. Next came the fierce marketing campaign. Davis said, "Fallin' fell between the charts at radio – but it was her signature song. So we had to get around radio." Her big break came when Oprah Winfrey agreed to have Keys on her show.
After a dynamic performance of "Fallin'" with 40 million people watching, the number of albums being shipped for the week of release doubled. The June 26, 2001 release of Songs in A Minor debuted at #1 on the charts and, after 29 weeks, continued to remain in the top 20, going over seven times platinum worldwide. Her first single "Fallin'" ended the year at #2 on the Billboards Hot 100 chart, spending weeks at the #1 spot. With countless achievements all around the world, Keys is still as humble and real as they come. Her follow-up album to Songs in A Minor, The Diary of Alicia Keys, was released in December 2003.
The album, like the previous, showed vocal maturity beyond her years, and incorporated measures of soul, hip-hop, pop, early '80s Casio sounds and nods to the Blaxploitation era. Of course, through it all are the keys – sometimes indulgent, other times sparing, but at every stage indicative of her amazing musical gift. While Keys' music has sometimes been criticized for being unadventurous and leaning too heavily towards both its retro influences and her classical roots, over seven million record buyers have so far not let this ruin their enjoyment of her album.