The Tony Award-Winning Musical Comes to Leicester
This unforgettable story told over the course of 40 years follows courageous heroine Celie, as she journeys through joy, despair, anguish and hope in her own personal awakening to discover her unique voice in the world.
With a profoundly evocative score drawing inspiration from jazz, ragtime, gospel and blues, this moving family chronicle set in racially divided southern America, celebrates life, love and the strength to stand up for who you are and what you believe in.
Suitable for ages 14+. Please note that this production contains themes of rape, abuse and incest, with overt racism and sexism.
This production will contain some strobe effects and the use of haze.
AFTER-SHOW DISCUSSION
Thu 11 Jul, 7.30pm
Running Time: 2 hours and 30 minutes (including a 20min interval)
Hastings Direct £10 tickets
Thanks to sponsorship from Hastings Direct, hundreds of additional £10 tickets to The Color Purple are available, for full details, click here.
More Leicester Listings MORE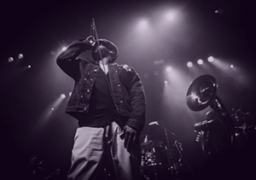 Leicester
Sunday 13 February 2022
Fusing vintage R&B sounds with punchy UK rap, Sainté seems to avoid categorisation at every turn. His…