A Black history masterclass discussing Black resistance and the rise and fall of enslavement in the British Colonies in the Americas.
When researching his family's black history, Paul Crooks discovered his great great great grandfather walked free from a sugar plantation in Jamaica in 1838. Paul wanted to know more about what lay behind the decision to free the enslaved people of the Caribbean.
Paul argues since profits were the main cause of enslaving Africans, then declining profits must have been the main reason for abolition
Paul will highlight the economic reasons for abolition
Who Is This Talk For?
The talk is suitable for you if
you want to develop your knowledge and understanding of black history
you're new to exploring family history
This talk is designed primarily to help improve the self-respect of black people young and old and give them a brighter, more optimistic outlook. It's also designed to help other people view African Diasporans through more appreciative eyes.
How To Get The Event Link
Links to the one hour online live cast will be provided via an automated email an hour before the event starts.
About The Speaker
Paul Crooks is unique as a published author and genealogist with a specialist interest in Black ancestry and African Caribbean history. He came to prominence with his pioneering research into African Caribbean genealogy During the 1990s, when he became the first to trace his family history back 6 generations, from London to his ancestors captured off the West African coast 200 years ago. He discovered his ancestors were enslaved on a sugar plantation in Jamaica. His books, Ancestors and A Tree Without Roots – The Guide To Tracing British, African And Asian Caribbean Ancestry brought him international recognition for his breakthrough research into Black ancestry.
Paul appeared on Who Do You Think You Are? with Moira Stuart as the expert in African Caribbean family history. He is credited with inspiring an upsurge in interest in Black and British ancestry. He is also recognised for having spawned an industry in African Caribbean genealogy.
More Online Events Listings MORE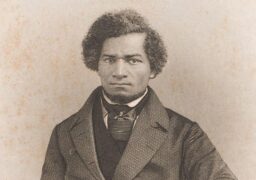 Online Events
Wednesday 6 December
A virtual tour highlighting sites around the UK/Ireland where freedom fighter Frederick Douglass had a strong impact with…