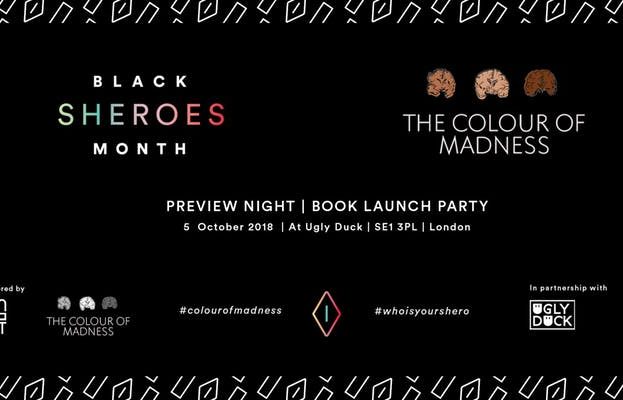 Lon-art/Sheroesand The Colour of Madnesshave partnered to put together the most powerful evening:
GROUND FLOOR – The Colour of Madnessbook launch party
We are delighted to announce the launch of The Colour of Madness, a seminal anthology exploring Black, Asian, and Minority Ethnic (BAME) mental health in the UK. Join us on the 5th October for an evening of talks, book signings, and food, followed by a banging DJ set to celebrate this collection of BAME voices!
About the anthology
Inspired by a kaleidoscopic range of human experiences, The Colour of Madness is an anthology of art, poetry, short fiction, memoirs, and essays seeking to disrupt the whitewashed narrative of mental health in the United Kingdom.
Through a journey along the visible colour spectrum, Dr Samara Linton and Rianna Walcott centre the experiences of over fifty people from BAME backgrounds, expanding our understanding of mental health to one which encompasses the full rainbow.
Half of the net proceeds will be donated to Kindred Minds, a user-led project for survivors of mental distress from BAME communities.
Foreword by Guilaine Kinouani.
FIRST FLOOR – Black Sheroes MonthPreview
We will open our3-day exhibition with which we want to continue our sheroic mission of reflecting upon the comparative lack of female role models in society, now with a focus on the black community.
Black Sheroes Monthis a collaborative projectbringing together UK and international artists, organisations, charities and the general public. Through BSM, Lon-art aims to open a dialogue between art and the public, encouraging attendees to reflect upon the lack of black female role modelsin society and make creative learning accessible for all.
The main objective of the first Black History Month in 1987 was to celebrate the contributions of black people in Great Britain, to form a positive image of black citizens in order to fight back negative stereotypes and racism. However, it unfortunately quickly developed into a mere celebration of African and Caribbean cultural facts.

With Black Sheroes Month we would like to reclaim the original meaning of BHMto not only celebrate, but also remember and recognise the struggles of Black British people, giving all those black sheroes out there the visibility they deserve.
With your Early Bird Ticket, you will be entitled to:
– £2.50 offon your purchase of The Colour of Madness anthology.
– An automatic entry for the raffleof one of the artworks exhibited at Black Sheroes Month.