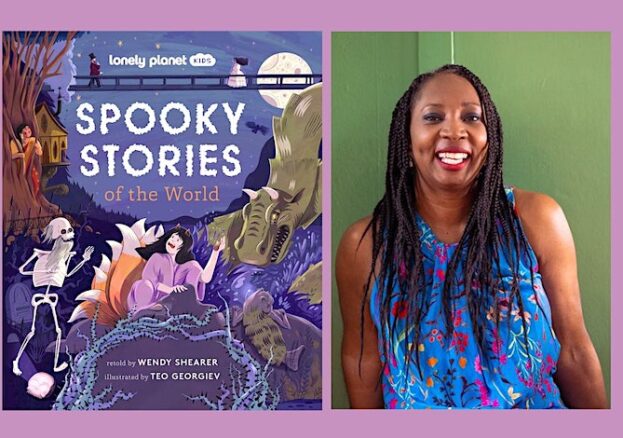 Are you brave enough to join us for some spine – tingling spooky fun with story teller and author Wendy Shearer and her new book Spooky Stories of the world.
Featuring over 20 eerie tales from across the globe. Discover bewitching retellings of ghost- and monster-filled myths regaled with ghoulish relish and journey continent-by-continent through this haunting book.
With shocks and twists like you wouldn't believe!
Packed with mind-boggling mysteries, real unexplained enigmas and traditional stories that are sure to send shivers down your spine.
The ultimate feast for Halloween-loving kids and readers in search of a fright. Meet vampires, werewolves and fearsome monsters that hide in the shadows in this one-of-a-kind round-the-world collection of hair-raising tales.
Spooky Stories of the World is the much-anticipated follow-up to Myths and Legends of the World. Beautifully illustrated by Teo Georgiey, this is the perfect book for curious kids in search of a creepy kick to their reading list and is probably best read with the lights left on…
About the author:
Wendy Shearer is a professional storyteller, imagination weaver and published author who brings stories to life from her African andCaribbeanheritage.
She regularly works with libraries, schools and institutions across the arts, including the V & A, the British Library, theBritishMuseumand the Royal Academy of Arts, performing, consulting and leading workshops in the art of storytelling.
Her books are available in bookshops and celebrated in schools throughout theUK- Caribbean Folktales: stories from the islands and the Windrush generation; African & Caribbean Folktales, Myths and Legends; Bedtimes Stories – Beautiful Black Tales from the Past Spooky Tales from the World.
Wendy's background is in TV Broadcasting, having produced programmes for Children's BBC (CBBC), Nickledoden and PBS America. She is a script consultant for the Cbeebies show 'JoJo and GranGran'; the Patron of Tall Stories Theatre Company and has recently been appointed Chair of the Society for Storytelling, raising public awareness of the value and benefits of oral storytelling.
"Wendy Shearer is a masterful storyteller, bringing everyone with her imaginatively and playfully." – Literature & Spoken Word Programmer, SouthBank Centre.
This event is Free
Please book your place to avoid disappointment.
All children must be accompanied by an adult (Adults do not need to book a place).
15% off any childrens book when purchased at the event.
K eep up to date with news and events and sign up to our newsletter.
Please ensure we have an up-to-date contact email address or telephone number when booking your ticket so that we can contact you with any updates.
Please do not come to an event if you are experiencing any symptoms of COVID-19 or have been in contact with anyone displaying symptoms.