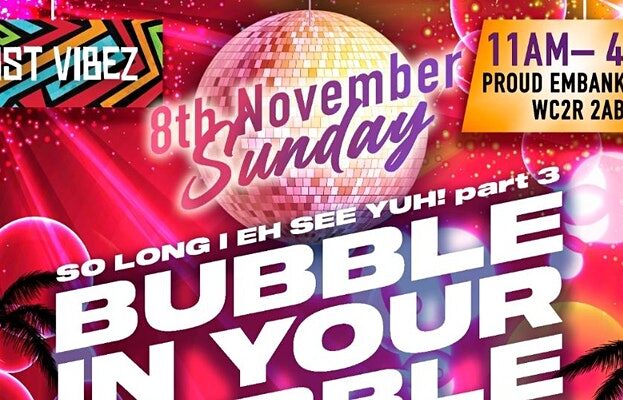 Just Vibez presents:
BUBBLE IN YOUR BUBBLE! SO LONG I EH SEE YOU – Part 3!!!
Proud Embankment, 8 Victoria Embankment, London WC2R 2AB
MESSAGE US IF YOU ARE CELEBRATING YOUR BIRTHDAY! 🙂
justvibezldn@gmail.com or @justvibez on instagram
Venue: Proud Embankment
More info here: JUST VIBEZ instagram OR JUST VIBEZ facebook
Social distance protocols in full effect! PLEASE READ FULL INFO BELOW!
Caribbean food INCLUSIVE
– Choice of Jerk Chicken meal or Vegan curry meal
Dessert included **EMAIL us if celebrating birthdays justvibezldn@gmail.com
One hour BOTOMLESS RUM PUNCH (1130am – 1230pm)
Just Vibez and Know your Caribbean games and competions
Live entertainment including steel band and DJs
SOCA, Afrobeats, Reggae, Dancehall with a touch of Afrobeats and other vibez
Please note -Tickets are priced total per table (one price for 2, 4 or 6 people ) *Limited number of non botomless rum punch tickets also available . In the event of a Full London Lock down everyone will be issued a refund for tickets purchased
THE VIBEZ
Large spacious Central London Venue.
Swanky and socially distanced so you can BUBBLE IN YOUR BUBBLE!
Live Caribbean entertainment including steel band and DJs
SOCA, Afrobeats Reggae, Dancehall and other vibez
Tickets include entry, delicious Caribbean food, one hour of BOTOMLESS rum punch (1130pm – 1230pm! ), Games, competitons, live steel band and DJs!!
** Limited tickets NOT including botomless rum punch hour – please note if purchasing non botomless rum punch option the entire bubble/table must also have the same option.
Well stocked bar with table service (card payment recommended)
Gather your bubble and come thru for some good vibez!.
This is a legal event – adults only. We will be following covid 19 social distancing rules.
FOR YOUR SAFETY / COVID SAFE REGULATIONS
*Patrons must arrive at venue wearing masks but can remove upon entry/seated
*Temperature checks taken from all patrons' wrists upon entry
*Tables of your bubble of 6 persons max to maintain social distancing guidelines
*Attendees required to stay at their tables to aid in maintaining social distancing
*Venue has very high ceiling to facilitate maximum ventilation
*Sanitiser stations throughout the venue
*Caribbean food served adhearing to safety guidelines
*Well stocked bar with drink table service (card payment recommended)
*Live Caribbean entertainment, steel band and DJs playing SOCA, Reggae, Dancehall and more!
More Westminster Listings MORE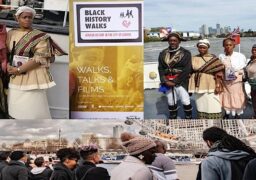 Westminster
Saturday 25 May
Your private, double-decker boat will start from the Temple Pier near Temple tube station on the Embankment. Your…