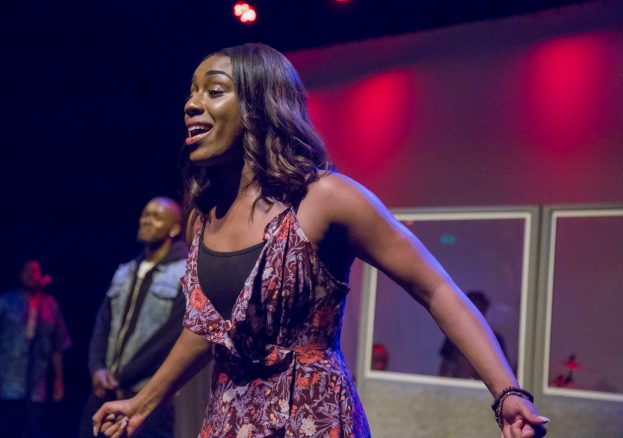 The Belgrade is proud to be supporting Black History Month. We are committed to creating diverse work that gives a voice to the many communities of Coventry all year round, and are privileged to be able to give a platform to some of the many stories and achievements within black history.
Spectacular new Afrobeats musical, Oliva Tweest, follows the ambitions of self-proclaimed gyalis (ladies' man) and club-promoter Tobi, as he navigates comedic and sometimes explosive clashes with women, family tradition, and his reawakened conscience. Featuring choreographed Afro-sound hits performed by a live band.
Tickets from £20.75 | Concessions from £15.75.
Film Screening: Pressure, directed by Horace Ové, 1976 Monday 8 October, 7pm*
Hailed as Britain's first black feature film, Pressure is set in 1970s London. It tells the story of Tony, a bright school-leaver and son of West Indian immigrants, who finds himself torn between his parents' church-going conformity and his brother's move towards the Black Power movement.
Diversity Women's Networking Lunch Thursday 11 October, 1pm
A networking event for women to discuss what diversity means to them. Tickets £6 (includes lunch).
Black Conscious Coventry and the Belgrade Theatre present Black, Radical and Proud Monday 22 October, 7pm*
Join us for a conversation about Black Activism.
Dr Kehinde Andrews is an author, activist and associate professor of Sociology. His research specialises in race and racism. Drawing from his brand new book entitled 'Back to Black: Retelling Black Radicalism for the 21st Century' (2018), Kehinde will be discussing the movement that was born out of resistance to slavery and colonialism.
Esther Stanford-Xosei is an internationally acclaimed Pan-African Reparationist. Having charted new grounds as an interdisciplinary legal and history scholar-activist in the theory, research and praxis of Pan-African Reparations for Global Justice, Esther will be sharing her experiences of leading social movements and grassroots activism.
Black History Month Storytelling Saturday 27 October, 11am – 1pm*
Join us for a session with the Imagination Reading Cafe Storytellers, Kushumika Chatterjee and Coventry's Lady Godiva, Pru Porretta. With live African drummer and musican Jahman Aggrey, this interactive session with puppets, mime and instruments is suitable for all ages.
COBO: Black History Month – Comedy Shutdown Monday 29 October, 7.45pm
Join Comedy Of Black Origin as they bring their Black History Month Special to the Belgrade Theatre with an almighty bang! Join Simon Clayton, Aurie Styla, Lateef Lovejoy and Slim for an evening of laughter. (Acts subject to change.) Tickets from £14.