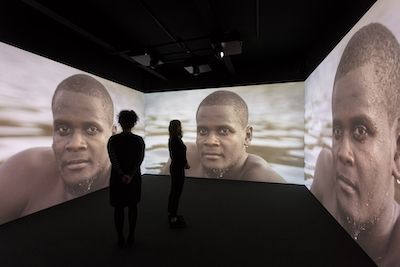 Kehinde Wiley is a world renowned Nigerian-American artist whose naturalistic portraits challenge the conventional view of power, taste and privilege by portraying black people of disparate origins and social status as celebrated figures. Wiley's gaze into the world functions as a filter for narrating an alternative history about the representation of power, race and class. His sitters include President Obama, Kanye West and fellow artists Wangechi Mutu and Lynette Yiadom-Boakye.
This exhibition centres around his first ever film installation Narrenschiff (2017) – a three-channel digital projection featuring a group of young black men at sea, struggling to reach the land – a metaphor for both historical and contemporary histories of migration and social dislocation.
Narrenschiff is shown alongside a small selection of other works that reflect the variety of media Wiley deploys, despite mainly being known for his paintings.
A painting titled Ship of Fools (2017) is on loan from Royal Museums Greenwich. The large canvas depicts a group of four migrants in a rickety boat with a tree trunk growing where the mast would be.
Alexander Cassatt (2017) depicts the seventh president of the Pennsylvania Railroad (1899-1906). Wiley has replaced the original figure (known by an existing statue) with a black man he met on the streets of Brooklyn and later invited to pose for him in the studio. Wiley uses this type of street casting for many of his models.
A bronze bust made by Wiley in 2015 depicts American rapper Kanye West. A book, first published in 1498 by German theologian Sebastian Brant, The Ship of Fools is also on display. The book satirised politicians, clerics and other influential people and was a huge success of the time, narrating the story of a crew of fools lost at sea.
'Kehinde Wiley: Ship of Fools' has been curated by The Box in partnership with The Arts Institute, University of Plymouth and Royal Museums Greenwich.
Visits to the exhibition must be booked in advance with a General Admission ticket to The Box. Book online via https://my.theboxplymouth.com/events
Narrenschiff joined The Box's collections in 2018 thanks to the Contemporary Art Society's Collections Fund at Frieze.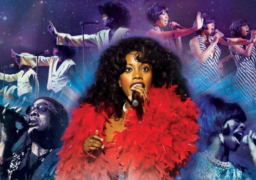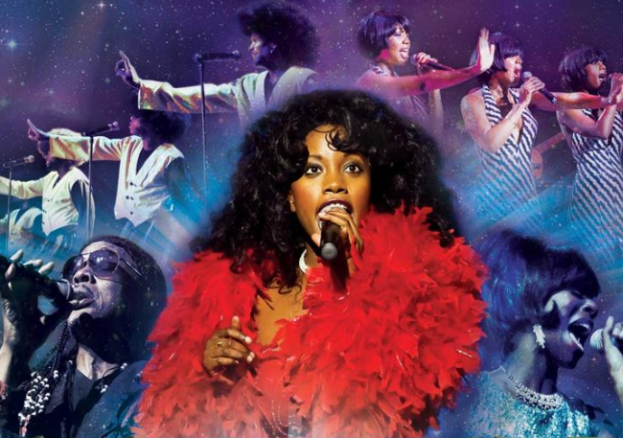 Plymouth
Saturday 03 February
Seen by over a million people, now in its 17th year touring the UK. It's no surprise that…