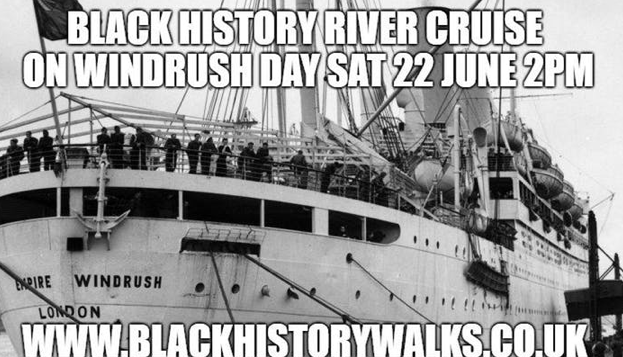 *Windrush Day
A three-hour cruise along the Thames from Temple to Vauxhall to the Thames Barrier and back highlighting the hidden African/Caribbean history on display, which in some areas goes back 3500 years.
Your private double-decker boat will start from the Temple Pier near Temple tube station on the Embankment. Your six-mile round trip includes unobstructed and spectacular views of both sides of the Thames riverbanks. With special historical guests Phyliss Wheatley, Nanny of the Maroons, Mary Prince, Pharoah Ra'mun, and Olaudah Equiano, not only will you get a unique informed historical commentary as we cruise, but you can ask questions of three giants of African-American, Caribbean and Nigerian literature.
The cruise will cover African Romans, ancient African art/engineering, Black Spitfire pilots, lost sugar warehouses, the Ivory trade, African diamonds, African Odysseys on the Southbank, the Apartheid Millenium Wheel, Olaudah Equiano, Nigerian oil, 20,000 Black people and their Day of Action, Civil Rights in the UK, Mary Seacole, To Sir With Love, Brown babies and Jim Crow, The Palace of Stolen Goods, West India Docks, Canary Wharf's African roots, Kings College's Caribbean connection, Guys Hospital and who really paid for it, the colour bar in nursing, Black Merchant Mariners, the river as a sewer, Black Shakespeare, Tate & Lyle and the Sugar Girls, Barbados and the National Rail Network, the REAL pirates of the Caribbean and much, much more! On this day we will pay special attention to the Windrush generation.
On the way back we will be listening to some Lovers Rock and 90s Soul music. Proceeds from this event will go the Black History Walks fundraiser for plaques in honour of four Black historical heroes:
Dr Harold Moody 1930s Black British Civil Rights leader (Plaque unveiled 13th March 2019 at YMCA Great Russell Street)

Phyllis Wheatley 1773 child genius, poet, author. Plaque unveiling 16 July 2019

Bill Richmond (1800s American/British champion boxer and community leader)

Tom Molyneaux (1810 American champion boxer who should have been British champion but for cheating)

Baron Baker (1950s Jamaican and Windrush street-fighter who defended the community out of Toto Bags Blues Club in Notting Hill)
This event is sponsored by Owens Stevens Solicitors www.owensstevens.org.uk
Check Eventbrite for our Black History Bus tour, a circular three-hour guided double-decker drive starting from Brixton, in April, May and June. Watch out for African Odysseys at the BFI, great Black films every month of the year.
All plaques will be erected in association with Nubian Jak Community Trust http://nubianjak.org/category/plaques/
*Windrush Day is a creation of the UK government in response to the embarrassing Windrush scandal of 2018 where Black people who had lived and worked in England for decades were suddenly deported to the Caribbean. The day is supposed to celebrate the contributions of the Windrush generation even though the illegal deportations still continue. https://www.theguardian.com/uk-news/2019/mar/06/home-office-woefully-complacent-despite-windrush-scandal-reveals-mps-public-accounts-committee-report
More Events in Greater London Listings MORE
Westminster
Until January 2024
For Black Futures Season 2023, a new exhibition focusing on influence of scientific ideology, racism and resilience will…