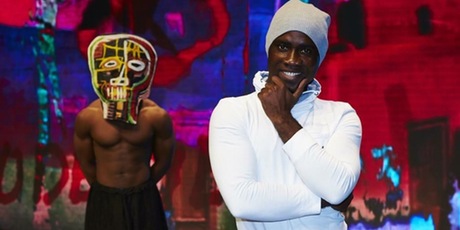 Georges Momboye, choreographer from the Ivory Coast, initiated very young in traditional African dance and later to jazz dance, including classical and contemporary dance.  He has studied in various schools including Alvin Ailey in New York. Georges Momboye never ceases to amaze us and continues to create and enrich his teaching technique to our delight.
A single watchword: lets us express emotions through dance, choreography, interpretation, development gestures, body and a pedagogy that will fetch far, deep within us. Georges Momboye visits and revisits our emotions thru dance which can be, sometimes happy or sentual, through the adolescent games or just vertically and horizontally.
Georges Momboye teaches around the world with the same passion: the clarity and precision of his teaching helps give African dance acclaim.
Georges will be teaching both traditional Ivorian African Dance and Contemporary African Dance during the weekend.
The classes will be accompanied with live musicians. Georges will also be bring his drummer from France.
Weekend Schedule:
25 June 2016, Saturday
13:00 – 15:00 Contemporary African Dance
break
15:30 – 17:30 Traditional Ivorian African Dance
26 June 2016, Sunday
13:00 – 15:00 Contemporary African Dance
break
15:30 – 17:30 Traditional Ivorian African Dance
Description: Contemporary African Dance Class
The Afro-contemporary covers a very diverse reality, since this dance leaves room for creativity and the multiple influences. The technique Georges Momboye contemporary African dance, proposes to explore the movement danced through traditional African gesture to open it and take ownership of the contemporary world.
The technique Momboye is based on the action and philosophy:
– Take : Interpellate, Loving, consider conquer Catching Decide aways
– Give: Assign, Give, Give, Hand, Manufacturing, Forward, Free
– To receive : Welcome, Accept, Contain, Host, Inherit, Receive Harvest
The Momboye technique offers different, new, gestural, colorful and nuanced that make you travel the roots of Africa to modernity. The intention is to understand the action, the concept and philosophy of the word: Take Giving and Receiving so that everyone becomes author of his own sign.
Description: Traditional Ivorian African Dance Class
– Saturday – The rhythms are Abissa. and Atchan which are dances for rejoicing from the south of the Ivory Coast.
– Sunday – The rhythms are Bolowi, the dance for people that are being initiated and N'Goron, the rhythm for passing from childhood to adulthood.