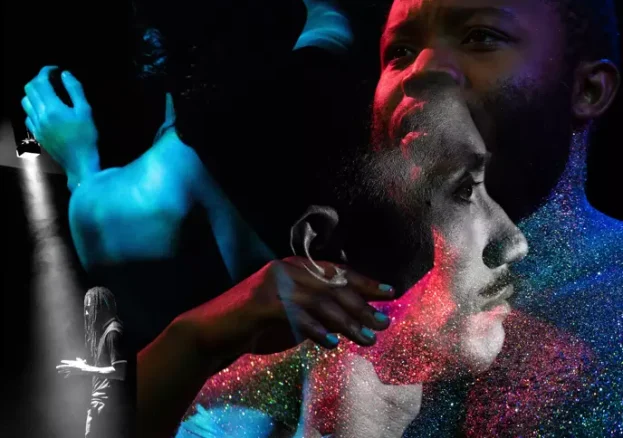 Running day and night on a six-metre LED screen outside the Hayward Gallery, Anthea Hamilton's new film maps still and moving images onto the 24-hour cycle of a clock.
Primetime, 2022, has been specifically conceived for the Hayward Gallery's architecture and location.
The work features a photograph of an almost nude white male model from the early 1980s intercut with new footage of four performers – Jasmine Chiu, Jordan Johnhope, Duane Nasis and Bakani Pick-Up.
Each one draws on a broad repertoire of movements, images and references to generate distinctive sequences that are mapped onto the 24-hour cycle of a clock.
The performers' movements respond to the scale and site of the screen as well as to the still photograph, which recalls Leonardo Da Vinci's Vitruvian Man (c.1490), a depiction of the idealised muscular, male body, that, in intersection with the mathematical perfection of the circle and the square, describes the ideal proportions of the human body in classical art.
Taken by the photographer Ken Haak, the seductive image was published in a men's fitness manual in the early 1980s and was first used by Hamilton in a previous work, Aquarius (2010).
The image evokes the vulnerability of the sexualised gay male body on the cusp of the AIDS epidemic at the start of the 1980s.
In revisiting the image for this new commission, Hamilton reflects on how recent radical shifts in the ways that images of bodies are produced and consumed have further eroded the dominance of this body aesthetic.
Anthea Hamilton, 2022. Courtesy of the artist, kaufmann repetto Milan/New York and Thomas Dane Gallery.
This commission by Anthea Hamilton is generously supported by the Hayward Gallery Commissioning Committee, with additional support from Adam and Mariana Clayton Collection, Thomas Dane Gallery, Candida and Zak Gertler, and kaufmann repetto, Milan / New York.
Director: Anthea Hamilton
Performers: Jasmine Chiu, Jordan Johnhope, Duane Nasis and Bakani Pick-Up
Producer: Ese Onojeruo
Production Assistant: Marla Kellard-Jones
Director of Photography: Shamica Ruddock
Second Camera: Miles Williams
Lighting Designer: Joshua Harriette
Make-up Artist: Tina Khatri
Stills Photographer: Miles Perry
LED Screen, video sequencing and playback: LUX Technical
More Lambeth Listings MORE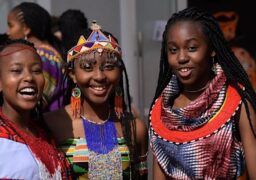 Lambeth
Saturday 9 December
The workshop aims to educate young people about their heritage which will help them develop a positive sense…