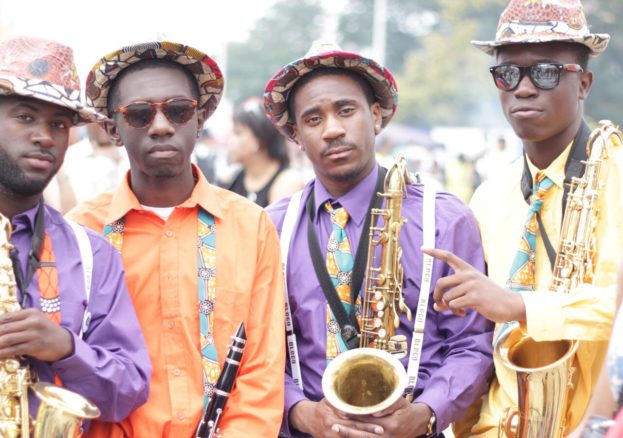 Funk and soul flood our riverside stage at a carnival-style party.
Our Meltdown Mardi Gras features a battalion of brass, an outdoor procession, lindy hopping, break-dancing and a whole heap of disco classics.
Kickstart the day with a procession of style as our resident youth organisation Kinetika Bloco head down to the Riverside Terrace.
Dat Brass, a high octane 11-piece band take to our summer stage for a set, while lindy hopping, break-dancing troupe Swing Patrol battle it out with our Southbank Centre cloakroom dancers.
Then it's your turn to take centre stage – learn some moves at a swing dance workshop and then show everyone what you can do in a dance-off.
Schedule
12 noon –1pm: DJ Set
1pm – 1.45pm: Kinetika Bloco Junior Procession and Performance
1.45pm – 3pm: DJ Set
3pm – 4.30pm: Dat Brass x Swing Patrol x Southbank Centre Cloakroom Dancers
4.30pm – 5pm: Swing Patrol Swing Workshop
5pm – 5.30pm: People's Dance Battle
5.30pm – 7pm: DJ Set
Kinetika Bloco is a performance group with an exuberant mix of musicians and dancers, creating a 'unique new British Carnival sound with a decidedly London edge' (BBC Radio 2).
Drawing influences from the Caribbean, Brazil, West and Southern Africa, as well as New Orleans jazz, funk and hip-hop, the Kinetika Bloco youth organisation create work with a team of professional tutors.
Hailing from the streets of London, and raised by its punk-jazz underbelly, Dat Brass are a high octane, 11-piece hip hop outfit
who blend anthemic horn lines, lyrical verse, pounding percussion and razor sharp scratch.
Swing Patrol is a community of over 1,500 swing dancers, including a first-class teaching team, four award-winning performance troupes, a dedicated admin and volunteer team, and a passionate group of social dancers. Responsible for the overall vision and leadership of the Swing Patrol family is curator Scott Cupit.
More Lambeth Listings MORE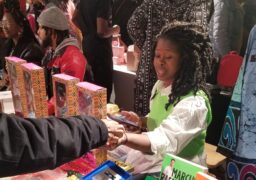 Brixton
Saturday 2 and Sunday 3 December
Join Black Culture Market for their exciting Winter event for Christmas. Black Culture Market is the destination to…