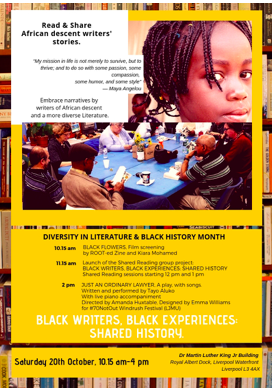 For Black History month, book lovers are invited to celebrate Diversity in Literature at Dr Martin Luther King Jr Building with the support of the Reader, the International Slavery Museum, the Institute for Black Atlantic Research and Liverpool John Moores University.
For Black History Month, the International Slavery Museum is supporting the launch of a Shared Reading group. A volunteer Reader Leader from The Reader will lead this weekly exploration of Literature from writers of African descent. In Shared Reading, literature becomes a powerful tool, enabling us to consider, to gain insight and understanding about the diversity of the human experience. The Shared Reading Group will focus on reading together narratives about African descent experience.
• Registration for the SR Group "Black Writers, Black Experiences: Shared History"
• Free Resources: Diversity in Literature – Writers of African descent (bibliographies from the Institute for Black Atlantic studies, free sample of poems, short stories)
• Series of Shared Reading sessions
• Film screening Black Flowers by ROOT-ed Zine and Kiara Mohamed
• Performance Just An Ordinary Lawyer by Tayo Aluko
• Registration and free membership of the Reader community
• Information about opportunities to become a Reader Leader, Shared Reading Advocate or Shared Reading Organisers
• Meet other members of the community of readers (Reader Leaders, Shared Reading group members, Shared Reading Advocates and Organisers)
1. BLACK FLOWERS, Film screening by ROOT-ed Zine and Kiara Mohamed

ROOT-ed Zine and multidisciplinary artist and director Kiara Mohamed present their collaborative film
In a city built on the slave trade, this film explores how black artists can intervene, create and decolonise historically white spaces where black people have not been welcome. Set in the old Liverpool Town Hall and using film, poetry and art to heal the wounds of slavery and move forward together as a united community.
2. JUST AN ORDINARY LAWYER A play, with songs. Written and performed by Tayo Aluko With live piano accompaniment Directed by Amanda Huxtable, Designed by Emma Williams
"The British Empire was trying desperately to hold on to its colonial possessions by any means … and the foul would often override the fair."
Nigerian Tunji Sowande quietly breaks through multiple barriers to become Britain's first Black judge in 1978. Also a fine concert singer and keen cricket lover, he muses on international politics and history as they affect the Black world from Africa to the USA and Britain, from the point of view of one who would rather watch sports, and spread love and peace through the medium of song.
Recalling heroic sporting achievements alongside epoch-defining political events, Tayo Aluko follows the multi-award-winning Call Mr. Robeson with another "brilliantly put together history lesson delivered as art."
He is Britain's first Black judge, a fine singer and keen cricket lover. Finding himself stranded in the Heart of Empire, Nigerian Tunji Sowande muses on Black liberation struggles worldwide. He insists he is no political aficionado, but is content to contribute through his music and songs.
Reviews:
"A fascinating play" (4 stars) The Guardian "Another triumph … that thrills and touches" (5 Stars) British Theatre Guide "Immensely enjoyable." (4 Stars) One4Review "A superb play" (9/10) Liverpool Sound and Vision "Every socialist, anti-racist and anti-imperialist will love this" Socialist Worker "Prepare to be bowled over" Wirral Globe