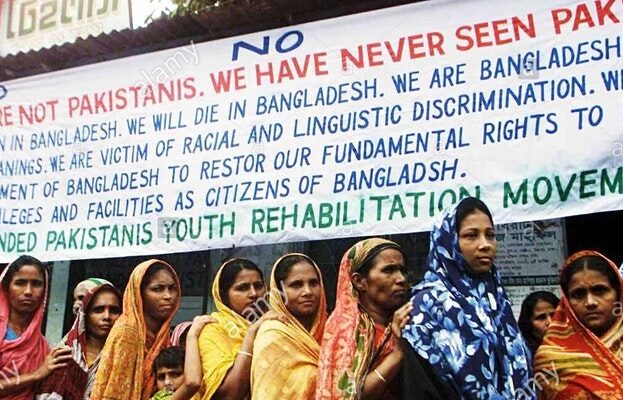 Bihari Indian Refugees in Bangladesh – by Khalid Hussain (Advocate) Thursday 28 October 2021, 3-6 pm Bengal History Week 2021
Bihari-Urdu speaking linguistic minority community of Bangladesh and a formerly stateless community of Bangladesh. As a stateless community Biharis were subject to marginalization and exclusion and like millions of other stateless communities around the world, most belong to minorities like the Biharis.
So why was Bihari stateless and how did they become a Bangladesh citizen?
Approximately three hundred thousand Urdu-speaking Biharis, a linguistic minority, are living in 116 inhuman camps in Bangladesh. In Bangladesh, they are identified in the local society by different nomenclatures, such as non-Bengalis, Biharis and Urdu- speaking, among others. In 2008 the honourable High Court of Bangladesh confirmed their citizenship and gave their name as Urdu Speaking Bangladeshi.
Following Bangladesh's independence, although people from the Bihari community qualified for Bangladeshi citizenship under Bangladesh law, in practice Bangladesh authorities refused to recognize the Biharis as citizens and they were excluded from exercising any of the rights afforded to Bangladesh citizens.
In 2001, I and 9 other youth petitioned the Bangladesh High Court to direct the Election Commission of Bangladesh to register us as voters.
On 5 May 2003, the High Court ruled that we petitioners were Bangladeshi citizens as a matter of law and that we were entitled to be registered as Bangladeshi voters. The High Court ordered the Election Commission to enrol us, 10 petitioners, as such.
Later, a decision of the High Court in 2008 ruled that all Urdu-speaking people in Bangladesh were eligible to vote and urged the Electoral Commission to provide people from my community with national identity cards without delay.
However, due to ongoing discrimination, people from the Bihari community remained largely without national id cards.
Therefore, in June 2013, the Council of Minorities and Namati commenced a community based legal empowerment project where fellow camp residents are supported to understand and pursue their rights as citizens, including obtaining birth certificates, passports, trade licenses, and public service employment.
Paralegals ensure that clients understand the 2008 High Court judgment confirming their citizenship.
The knowledge that they are entitled to citizenship empowers people from the community to demand equal treatment, for example by navigating birth registration procedures by themselves, including awareness of what they need to do if they face discrimination.
Our program has increasingly focused on the legal empowerment of women from the community. Today, dozens of women work as volunteer paralegals, spreading information about citizenship rights and paralegal group meetings. The program coaches' women on dealing with authorities in the official language of the government, Bangla. Community-based legal empowerment projects have also been successful in empowering minorities across Asia to access the documentation they need to access fundamental rights.
We are very proud of our successes. Since 2013, our community based legal empowerment project has facilitated the issuance of close to 15000 civil documents to people from the community and 19000 people have received legal education.
Khalid Hussain is a human rights lawyer and the Founder and Chief Executive of the Council of Minorities, a minority rights-based organization in Bangladesh. Khalid belongs to the Bihari Urdu-speaking linguistic minority, a formerly stateless community of Bangladesh, and has worked on statelessness issues on behalf of the Bihari community since 1999. During his career, he has been deeply involved in working in the field of statelessness and citizenship rights. He has accrued extensive experience in ending the statelessness of the Bihari- Urdu Speaking community in Bangladesh.
In June 2013, the Council of Minorities and Namati jointly started a community-based paralegal project with the Bihari community June 2013. Through this project, 16 trained camp-based youth paralegals are assisting the Bihari-Urdu speaking community members to obtain civil documentation; this includes assisting community members to acquire birth and death certificates, 'citizens character certificates', Bangladeshi National Identity Cards, passports and trade licenses. Khalid is a UN OHCHR minority fellow, Alumni of International Visitors Leadership Program IVLP of the USA State Department and represented Urdu Speaking Bangladeshis in UN and international forums.
More Online Events Listings MORE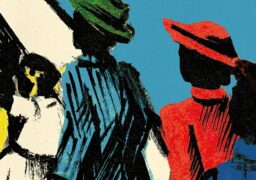 Online Events
Friday 8 December
Join us online for Twenty-Eight Pounds Ten Shillings: A Windrush Story by Tony Fairweather, where we'll delve into…