Lecture by Valerie Wade who will discuss the work of a number Black women of educators like Betty Campbell MBE and Nannie Helen Burroughs.
The presentation will provide biographical overviews of these esteemed women and explore the role of community within their educational practices. Mount Stuart Primary School in Cardiff and the National Training School for Women and Girls in Washington, DC are but two examples of educational institutions that were sites of profound community change. The presentation will locate the work of Black women educators in context with their respective communities and participants learn about Black women educators and their work inside and outside their classrooms.
17:05 Welcome by Dr Rose Roberto
17:10 Video presentation by Valerie Wade
17:45 Live Q & A session and discussion
18:00 – (18:05) Final remarks by Rose, Close
Light refreshments will be provided
This is a live streamed event open to anyone
Privacy notice
Thank you for expressing an interest in joining Black women as educators and social activists, 13th October 2021. This is a live-streamed event and the presenters/performers will be video recorded in order to preserve a record of the event, support teaching at BGU and to help to inform future events. The recording will not be published and only retained for internal distribution to staff for teaching purposes. The University will collect your data in our legitimate interests, in order to monitor attendance and administer any follow up activities such as collection of event feedback. Your basic data (name and email address) as supplied to Eventbrite will be collected for these purposes. Access will be restricted to organisers involved in delivery of Black History Month activities within the Faculty, the Events Team and within CELT (Centre for Enhancement in Learning and Teaching). Your details will be stored for a period of 12 months in line with the University's retention schedule after which time they will be securely deleted. Your details will not be shared elsewhere internally or externally for any purpose. BGU Staff and Students agree to take full responsibility for any guest they may bring to the event
For interactive events, questions from the live or online audience will all be mediated by the event host who will pose the question to the event guest.
More Online Events Listings MORE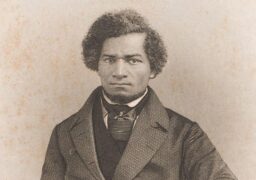 Online Events
Wednesday 6 December
A virtual tour highlighting sites around the UK/Ireland where freedom fighter Frederick Douglass had a strong impact with…