Gretchen Sorin, Professor and Director of The Cooperstown Graduate Program, is the guest lecturer at the Maxwell School Lecture series.
The Maxwell School at Syracuse University hosts Gretchen Sorin – a Distinguished Professor at SUNY Oneonta and Director of The Cooperstown Graduate Program – to discuss her new book, "Driving While Black: African American Travel and the Road to Civil Rights." The book was also the basis of a major PBS documentary, first airing October 13, 2020, uncovering the history of how the automobile profoundly changed African American life. In the book, the acclaimed historian reveals how the car―the ultimate symbol of independence and possibility―has always held particular importance for African Americans, allowing black families to evade the many dangers presented by an entrenched racist society and to enjoy, in some measure, the freedom of the open road. Interwoven with Sorin's own family history and enhanced by dozens of little-known images, Driving While Black charts how the automobile fundamentally reshaped African American life, and opens up an entirely new view onto one of the most important issues of our time.
This lecture will be virtual via Zoom Webinar and a registration link will be available here prior to the event.
More Online Events Listings MORE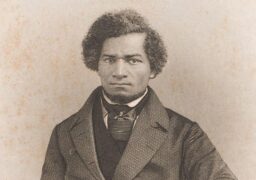 Online Events
Wednesday 6 December
A virtual tour highlighting sites around the UK/Ireland where freedom fighter Frederick Douglass had a strong impact with…