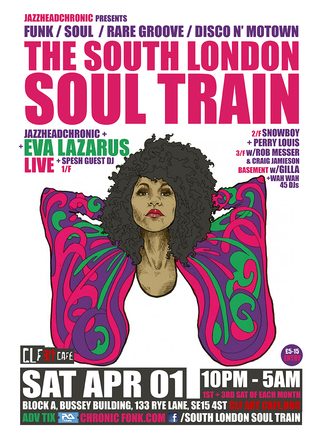 The South London Soul Train delivers a heavyweight portion of 21st Century Soul, as your SLST righteous funkalicous host with the absolute most JAZZHEADCHRONIC welcomes stunning songstress EVA LAZARUS to The first floor alongside special guest DJ [TBA].
The South London Soul Train, A thrice monthly multi-level mission to blow your mind & body + force feed yoh soul with the absolute best of times at The CLF Art Cafe.
EVA LAZARUS:
Big afro, big voice, big beats and big bass is what singer/songwriter/emcee Eva Lazarus is all about! Her musical flavours span across genres from Reggae to DnB, Jungle to Hip Hop, Soul and beyond.
This woman's on Fire good people + we truly can't wait to welcome her to The South London Soul Train Live stage.
Then on Level 2 – Funks gonna seriously hit the floor as Legendary vinyl 45 Tag Team SNOWBOY & Jazzcotech warrior PERRY LOUIS unleash more Soul and Funk Beasts on 45 direct to the dance floor and whole ah you soul. Dropping it like rain for daze – Dance like thunder. Absolutely Positively Storming!
Level 3 – it's The Northern Soul Room. The Mighty ROB MESSER, CRAIG JAMIESON + CLAIRE KALVIS dropping yet more Positively Seismic Heavyweight Northern Soul Joints without mercy on the dancefloor and as always you're definitely gonna feel it. LONG TIME!
The South London Soul Train 4 floor line up completed in the Basement by First Word Founder GILLA and WAH WAH 45's serving up more piping hot joints from the world wide soul underground.
More Southwark Listings MORE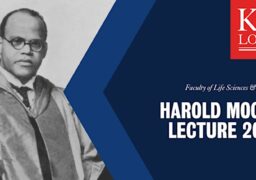 Southwark
Tuesday 5 December
The Faculty of Life Sciences & Medicine is proud to host the 2023 Harold Moody Lecture, an evening…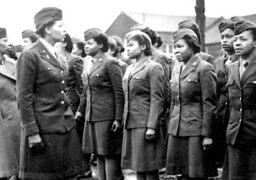 Southwark
Saturday 9 March
A detailed and extensive look at the African/Caribbean war effort with video clips and interviews with Black Spitfire…