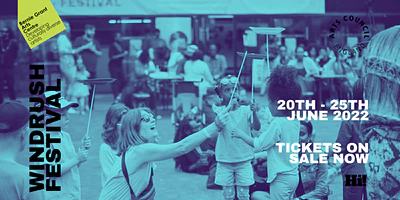 Family and community celebrate Windrush at Bernie Grant Arts Centre
Bernie Grant Arts Centre will celebrate Windrush Day in style again this year, with a week-long celebration of heritage, community and culture culminating with our Windrush Festival!
On Saturday 25th June, we have a fantastic line-up, from midday until 6pm hosted by Ashley J (Get Up Stand Up, Jo Jo & Gran Gran), headlined by Cleveland Watkiss & the Great Jamaican Songbook, and featuring , Rhythms of the City, Mobo Unsung and Hear Me Out.
Disco Loco and Steppaz Dance will bring animation and carnival vibes to our courtyard, Paul's Square, and there will also be arts and crafts and play games for all ages too!
We invite everyone in our community to come and celebrate this important moment in our shared histories; it is a day of significance for every British citizen, as it acknowledges the major contributions of the African and African-Caribbean diaspora to UK, and therefore to global, politics, infrastructure, culture and economy.