'Ladies Night', 'Too Hot', 'Get Down On It', 'Fresh', 'Celebration' and many more.
Celebrate are a superb tribute to Kool & the Gang, who dominated the singles charts in the late 70s and early 80s.
During the 70s and 80s, Kool and the Gang were one of the best-loved soul bands in the world and their greatest hits come to life once again with this fantastic show celebrating the very best of their many hit records – 'Ladies Night', 'Too Hot', 'Get Down On It', 'Fresh', 'Celebration' and many more.
Drummer Billy Osborne is the musical director and current producer for Alexander ONeal. The brass section comprises of Kenny Wellington tpt, David Baptiste sax and Fayyaz Virji tbn the original horn section and members of Beggar & Co/ Light Of The World and Incognito who all have of course their own hit recordings, as well as playing on the recordings of many other famous artists. On bass and keyboards are the current members of Alexander O Neals and Gwen Dickeys band Clint Williams and Emlyn. Vocalist Glen Goldsmith also has his own hit recordings and shares duties with Pitta, a top session vocalist having toured with many of the UK's Top bands and Kieran West, an upcoming vocalist and songwriter in his own right.
These musicians invite you to enjoy their performance of the great songs of Kool &The Gang from the funk to all the pop hits. A high-quality act performing songs of the highest quality.
More Tower Hamlets Listings MORE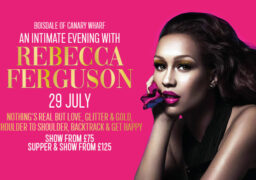 Tower Hamlets
Thursday 29 July 2021
'Shoulder to Shoulder', 'Teach Me How to be Loved', and 'Nothing's Real But Love After her incredible sell-out…