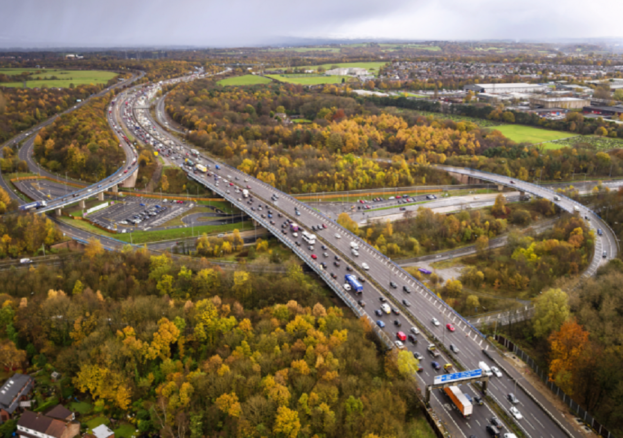 DVSA (Driver and Vehicle Standards Agency) is an agency of the Department for Transport – part of the Civil Service. We are the organisation that approves driving instructors, carries out your driving test, and inspects and tests lorries and other public service vehicles – to ensure they are safe on our roads. We aim to help all drivers through a lifetime of safe driving, whilst keeping vehicles safe to drive and protecting everyone from unsafe drivers and unsafe vehicles.
Can you tell us what are your main areas of recruitment?
We are always looking for talented individuals to work with us in a variety of roles. These include vehicle testers and driving examiners, as well as roles in our administrative functions, such as communications, finance, project management or in human resources – which is where I work!
Do you have a graduate recruitment programme?
The DVSA is part of the Civil Service, which employs just under a half a million people across different departments – such as the Department of Transport, Home Office and across different agencies, such as the DVSA. We take part in the Civil Service graduate recruitment programme, called the Fast Stream. Each year we employ about a handful of Fast Streamers in a variety of roles. To find out more about the programme please go to https://www.faststream.gov.uk.
You are the equality and Inclusion specialist at the DVSA. What does your role entail?
I have quite a wide and varied role. Currently, I focus on supporting staff engagement and development. I work across DVSA business areas and staff groups to ensure all our staff, irrespective of their background, have a fair and equal chance to develop their careers in the agency, and have positive day to day experiences. My role might involve ensuring our recruitment processes are fair and inclusive, supporting staff to treat each other with respect, or coordinating different projects to test and benchmark levels of equality, diversity and inclusion.
How important is Diversity and Inclusion to the DVSA?
The agency is totally committed to ensuring all staff are treated with respect and dignity. In recent years, we have established a new People Strategy and Inclusion Plan which captures all the things we are doing to make equality, diversity and inclusion a reality, and also ensures there is complete transparency and accountability for those activities. Ultimately, it's everyone's responsibility to make a DVSA a great place to work, whether you are the Chief Executive, a driving examiner or an Equalities and Inclusion Specialist!
What do you see as the most challenging aspects of increasing a more diverse workforce and what steps have the DVSA taken or plan to take to meet such challenges?
As someone relatively new to DVSA and new to the Civil Service, the most challenging aspect is many people's perception of the Civil Service. To many sections of the population, the Civil Service is still seen as something that 'other' people do or are involved with. Most Civil Service jobs are not widely advertised and promoted, outside of the Civil Service Jobs website. Most everyday people would associate a Civil Service job as one connected with Whitehall or Parliament, not necessarily working as a Driving Examiner or a Vehicle Standards Assessor. Our biggest group of staff are Driving Examiners and they largely come from the Approved Driving Instructor communities. However, being a driving examiner is one of the most accessible jobs in the Civil Service. If you have a clean driving licence, are over 23yrs years old, then you can apply to be a Driving Examiner! It's as simple as that. Yet, most people (other than former or current driving instructors) never think of becoming an Examiner. Like many organisations we have many other challenges, but this is one of our main challenges.
So what's our plan to tackle this? Well, we have decided to raise the profile of DVSA through engaging with external bodies such as the BHM Magazine, developing a communities and universities and schools outreach programme, carrying out regional recruitment, and using social media channels to promote DVSA more widely.
I understand that the DVSA has 5 staff network groups, can you tell us what they are and how they work?
Yes, we have five groups. They are:
EmbRACE – for Black, Asian and Minority Ethnicity staff
Enabled – for disabled staff
PRIDE – for LGBT+ staff
Time 2 Care – For staff who are carers
Women's Integrated Network – for female staff
All our network groups exist to support the agency in becoming an inclusive employer. Whether it's supporting the development of new policies, or being a critical friend on key strategies and plans, the groups are there to ensure staff from those equality communities have a voice – and can use that voice to support the agency by keeping everyone safe on Britain's roads.
What advice would you give to someone looking for a career at the DVSA?
Firstly, go to Civil Service jobs and search for DVSA. We run several large recruitment campaigns to bring in Driving Examiners, Vehicle Testers and Examiners but we also have ongoing recruitment across the country for a lot of different roles. Most of our office-based roles are situated in either Bristol, Nottingham, Swansea or Newcastle, but we have over three hundred Driving Test Centres in most towns and cities.
Finally, as a Black History Month Diversity Champion for 2019 are you planning to put on any events at the DVSA?
Yes, Black History Month has become an increasingly important time of year for our work on inclusion. As part of the Department of Transport, we normally run events across the agencies within the department This year, our EmbRACE staff network group will be coordinating an event for DVSA that will reflect some of the network's key priorities relating to Black, Asian and minority ethnic staff progression into senior management roles. Full details on the event will be published soon. Last year we had a successful event with the Bristol Lord Mayor sharing the city's relationship with black history and its diversity ambitions.