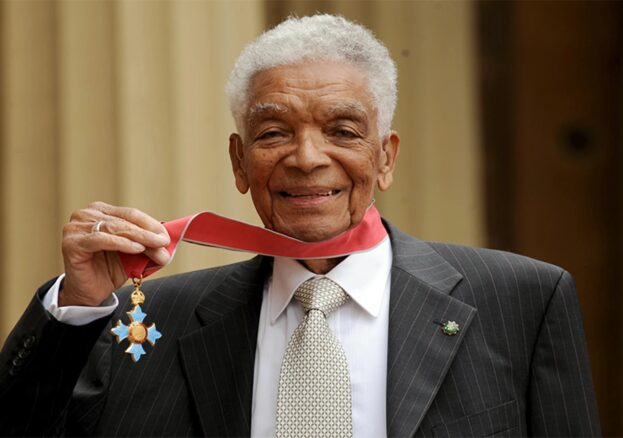 Earl Cameron was a pioneering Black actor who was born on 8 August 1917 in Pembroke, Bermuda. He grew up in a working-class family and had to leave school at the age of 14 to work as a welder to support his family.
Earl Cameron served in the British Merchant Navy before becoming an actor. He joined the Merchant Navy at the age of 18 and traveled to various parts of the world, including Africa, the Caribbean, and the United States. Cameron worked as a steward on board several ships and later became a cook, a job he found to be more fulfilling.
His experiences in the Merchant Navy allowed him to see different cultures and ways of life, which later informed his acting career. Cameron's time in the Merchant Navy also provided him with the financial stability to pursue his dream of becoming an actor when he settled in London in the 1940s.  Cameron's service in the Merchant Navy is an important part of his life story, and he often spoke about how his experiences at sea shaped his worldview and his approach to acting.
After leaving the merchant navy, Cameron settled in London in the 1940s and began his acting career in the theatre. In 1951, he made his film debut in the British film "Pool of London", which was one of the first British films to feature an interracial relationship. Cameron's breakthrough role came in 1958 when he played the lead role in the film "Sapphire", which tackled the issue of racism in Britain.
Cameron went on to have a long and distinguished career in film, television, and theatre, appearing in over 40 films and numerous television shows. He was known for his roles in films such as "The Interpreter" (1960), "Thunderball" (1965), and "The Queen" (2006). He also appeared in television shows such as "Doctor Who" and "The Prisoner".
In his later life, Earl Cameron continued to work as an actor, appearing in films such as "The Queen" (2006), "Inception" (2010), and "The Interpreter" (2005), as well as in television shows such as "The Bill" and "EastEnders". He also continued to advocate for diversity in the entertainment industry and worked with various organizations to promote racial equality and social justice.
In addition to his acting career, Cameron was involved in various philanthropic and humanitarian efforts. He served as a goodwill ambassador for the United Nations High Commissioner for Refugees and worked with the Christian Aid organisation to promote development and poverty reduction in Africa.
Earl Cameron received several awards and honours throughout his distinguished career. Here are some of them:
Commander of the Order of the British Empire (CBE): In 2009, Cameron was awarded the CBE in recognition of his services to drama.
Lifetime Achievement Award: In 2013, Cameron was honoured with a Lifetime Achievement Award by the Bermuda International Film Festival.
Black International Film Festival Lifetime Achievement Award: In 2016, Cameron was awarded the Lifetime Achievement Award at the Black International Film Festival in Birmingham, UK.
Screen Nation Lifetime Achievement Award: In 2017, Cameron was awarded the Screen Nation Lifetime Achievement Award for his contributions to the film and television industry.
CaribbeanTales International Film Festival Legacy Award: In 2018, Cameron was presented with the Legacy Award at the CaribbeanTales International Film Festival in Toronto, Canada.
These awards and honours reflect the immense respect and admiration that Cameron earned throughout his career as a pioneering Black actor and advocate for social justice
Here are some memorable quotes from Earl Cameron:
"I never had any major ambition to be a star. I just wanted to do my work as an actor and be able to make a living out of it."
"I think people should be allowed to pursue their dreams and not be held back by their race or their background."
"I hope that young people of all races will be inspired by my story and realize that they can achieve whatever they want if they work hard and believe in themselves."
"As an actor, my job is to create empathy between myself and the audience, and that's what I try to do every time I perform."
"I've been very fortunate in my career, but I've also worked very hard to get where I am. Success doesn't come easy, but it's worth the effort."
Cameron was also a devoted family man and was married to his wife, Barbara Cameron, for over 60 years until her death in 1994. They had six children together. Cameron passed away on July 3, 2020, at the age of 102, leaving behind a legacy as a pioneering Black actor and a tireless advocate for social justice.